Srinivas Bhogle and Purnendu Maji identify the Most Valuable Players in IPL 2019 at the end of Match 59.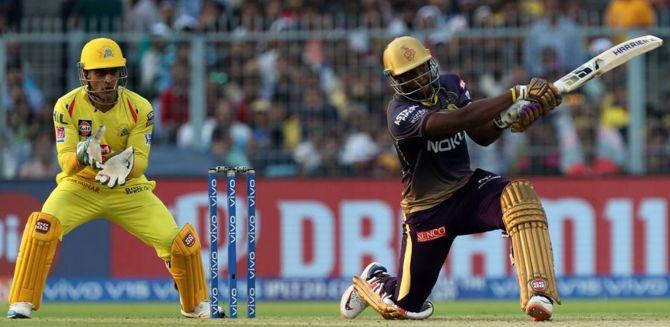 Just the final remains before IPL 2019 ends. As always, the IPL has been captivating and compelling.
Who's likely to be the most valuable player of this year's IPL?
There was an outside chance that Hardik Pandya might get there, but it now looks to be a bridge too far.
Recall that the Most Valuable Player Index (MVPI) tries to encapsulate the cricketers's performances in terms of a 'run equivalent'.
The MVPI formula rewards runs by batsmen, but rewards a little more if it is scored at a high strike rate.
Likewise, MVP rewards wicket-taking bowlers, but offers additional rewards to good economy rates.
The table below gives the MVPI details, and all the other key IPL performance variables, including the Paisa Vasool Index (PVI) which estimates how much the franchise owner pays (in $) for every 'run equivalent' contributed.
A low PVI makes the player more valuable to his franchise.
Best performing players so far at IPL 12 (after Match 59 ending May 10, 2019)
Rank
Player's Name
Team
From
Runs
Top Score
Strike Rate
Wickets
Economy
Games
MVPI
PVI (

$

)
Age
1

Andre Russell

KKR
WI
510
80
204.8
11
9.5
14
834
1460
31
2

David Warner

SRH
AUS
692
100
143.9
0
-
12
751
2380
32
3

Hardik Pandya

MI
IND
386
91
193
14
9.3
15
726
2170
26
4

Rishabh Pant

DC
IND
488
78
160
0
-
16
686
3130
22
5

KL Rahul

KXI
IND
593
100
135.4
0
-
14
638
2470
27
6

Shikhar Dhawan

DC
IND
521
97
135.7
0
-
16
574
1300
33
7

Jonny Bairstow

SRH
ENG
445
114
157.2
0
-
10
573
550
33
8

Quinton de Kock

MI
SA
500
81
131.2
0
-
15
556
720
26
9

Chris Gayle

KXI
WI
490
99
153.6
0
-
13
555
520
40
10

AB de Villiers

RCB
SA
442
82
154
0
-
13
525
3000
35
11

Virat Kohli

RCB
IND
464
100
141.5
0
-
14
519
4680
30
12

MS Dhoni

CSK
IND
414
84
137.5
0
-
14
499
4300
38
13

Kagiso Rabada

DC
WI
14
9
93.3
25
7.8
12
493
150
24
14

Imran Tahir

CSK
SA
0
0
-
24
6.7
16
491
300
40
15

Shreyas Iyer

DC
IND
463
67
119.9
0
-
16
459
2180
24
16

Ravindra Jadeja

CSK
IND
101
31
121.7
15
6.4
15
452
2220
30
17

Parthiv Patel

RCB
IND
373
67
139.2
0
-
14
445
550
34
18

Suryakumar Yadav

MI
IND
409
71
133.2
0
-
15
445
1030
29
19

Shreyas Gopal

RR
IND
63
19
137
20
7.2
14
442
70
26
20

Rashid Khan

SRH
AFG
34
17
147.8
17
6.3
15
436
2950
21
21

Ajinkya Rahane

RR
IND
393
105
137.9
0
-
14
430
1330
31
22

Nitish Rana

KKR
IND
344
85
146.4
3
9
14
427
1140
25
23

Chris Lynn

KKR
AUS
405
82
139.7
0
-
13
427
3220
29
24

Rohit Sharma

MI
IND
390
67
129.6
0
-
14
411
5220
32
25

Krunal Pandya

MI
IND
176
42
123.1
11
6.9
15
405
3110
28
26

Moeen Ali

RCB
ENG
220
66
165.4
6
6.8
11
402
610
32
27

Sanju Samson

RR
IND
342
102
148.7
0
-
12
397
2880
24
28

R Ashwin

KXI
IND
42
17
150
15
7.3
14
391
2780
33
29

Mayank Agarwal

KXI
IND
332
58
141.9
0
-
13
388
370
28
30

Suresh Raina

CSK
IND
375
59
125
0
6
16
384
4100
32
31

Jos Buttler

RR
ENG
311
89
151.7
0
-
8
381
1650
29
32

Prithvi Shaw

DC
IND
353
99
133.7
0
-
16
378
460
19
33

Faf du Plessis

CSK
SA
370
96
120.1
0
-
11
373
620
35
34

Manish Pandey

SRH
IND
344
83
130.8
0
-
12
365
4310
30
35

Jasprit Bumrah

MI
IND
0
0
0
17
6.8
15
361
2780
25
36

Sunil Narine

KKR
WI
143
47
166.3
10
7.8
12
347
5150
31
37

Axar Patel

DC
IND
110
26
125
10
7.1
14
344
2080
25
38

Deepak Chahar

CSK
IND
7
7
77.8
19
7.5
16
342
340
27
39

Shane Watson

CSK
AUS
318
96
125.7
0
-
16
339
1690
38
40

Jofra Archer

RR
WI
67
27
167.5
11
6.8
11
338
3050
24
41

Kieron Pollard

MI
WI
238
83
155.6
0
-
15
320
2420
32
42

Mohammad Nabi

SRH
AFG
115
31
151.3
8
6.7
8
316
460
34
43

Harbhajan Singh

CSK
IND
1
1
33.3
16
7.1
10
313
920
39
44

Dinesh Karthik

KKR
IND
253
97
146.2
0
-
14
311
3400
34
45

Vijay Shankar

SRH
IND
244
40
126.4
1
8.8
15
305
1500
28
46

Shubman Gill

KKR
IND
296
76
124.4
0
-
14
303
850
20
47

Yuzvendra Chahal

RCB
IND
6
4
37.5
18
7.8
14
299
2870
29
48

Khaleel Ahmed

SRH
IND
0
0
0
19
8.2
9
294
1460
21
49

Mohammed Shami

KXI
IND
1
1
50
19
8.7
14
294
2340
29
50

Steven Smith

RR
WI
319
73
116
0
-
12
283
6310
30
51

Rahul Chahar

MI
IND
12
10
133.3
12
6.8
12
266
1030
20
52

Robin Uthappa

KKR
IND
282
67
115.1
0
-
12
261
3510
33
53

Dwayne Bravo

CSK
WI
65
27
127.5
11
8
11
256
3580
36
54

Ishant Sharma

DC
IND
10
10
333.3
13
7.6
13
247
590
31
55

Bhuvneshwar Kumar

SRH
IND
12
7
63.2
13
7.8
15
242
5020
29
56

Marcus Stoinis

RCB
AUS
211
46
135.3
2
8.7
10
242
3660
30
57

Sam Curran

KXI
ENG
95
55
172.7
10
9.8
9
242
4260
21
58

Amit Mishra

DC
IND
21
8
87.5
11
6.8
11
240
2390
27
59

David Miller

KXI
SA
213
59
129.9
0
-
10
235
1830
30
60

Nicholas Pooran

KXI
WI
168
48
157
0
-
7
205
2930
24