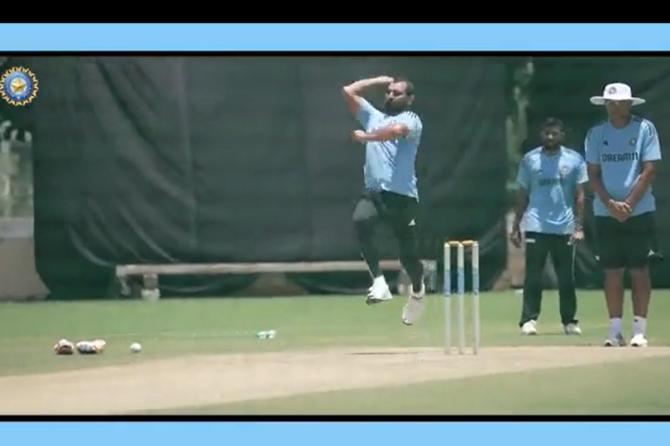 Head Coach Rahul Dravid is a happy man.
Not only has he had the whole, fit, team at his disposal, he's also happy with the training time the team had had together ahead of the Asia Cup.
The Indian cricket team has been undergoing practice and training in Alur in preparation for the continental tournament, starting on Wednesday.
'It's been great to have these six days of training. With the amount of cricket we are playing, it gets really hard for us to have camps, to have practice sessions like this,' Dravid said at a media interaction.
'In my two years, 18-19 months, that I have been with the team now, we've probably had a chance to have a couple of small camps with the red-ball team, one in South Africa during COVID, that was a few days before the Test matches started there. Had one in Nagpur before the start of the Australia series,' the head coach pointed out.
'Actually, with the white ball team, this is the first time we are having a camp where everyone has been able to come together. We have had a few days sometime where we've come a bit earlier before matches,' Dravid said.
'But to have access to these facilities, to be able to work on a lot of specific stuff with a lot of match simulation stuff done over the last three or four days. We finished off the session with a nets session today, but there is a lot of specific work done.' the coach added.
'Sometimes as you're playing so much, travelling so much, it (having training camps) is very difficult to do. I really like this because as a coach it gives us an opportunity to work on specific players, gives time to have conversations with players about roles, about skills,' Dravid explained.
'Sometimes when you get into tournaments or just before games, you're sort of just keyed up or geared up to playing that particular match or that particular tournament, so it doesn't give you that time (to practice),' he added.
'It has been a fruitful four-five days for us. We've had an opportunity to connect as the group, we have had a chance to do some fitness, we have had some fielding done on the side, lot of skills with the bat and ball, and a lot of good facilities.'