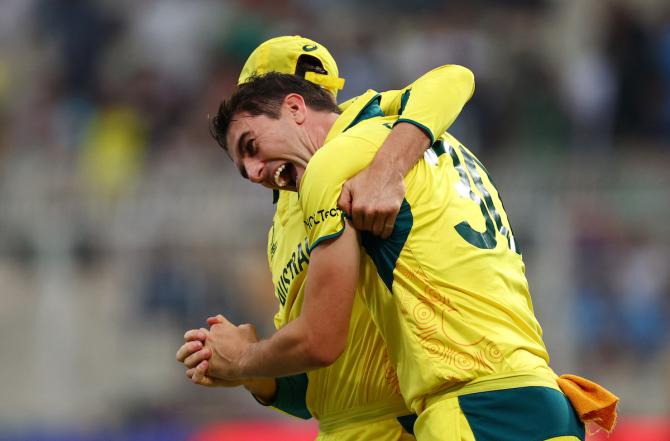 A nerve-wracking semifinal win under their belt, Australia cannot wait for the World Cup summit clash against India in Ahmedabad on Sunday, said captain Pat Cummins.
Australia beat South Africa by three wickets in the second semifinal on Thursday to book a final berth against India at the 1.3-lakh capacity stadium in Ahmedabad.
India had beaten New Zealand by 70 runs in the first semifinal in Mumbai on Wednesday.
"Easier than sitting in the dugout. Nerve-wracking couple of hours but great effort and a great game," Cummins said at the post-match presentation.
Asked about taking on India in the final with a massive crowd supporting the hosts, he said, "The stadium is going to be packed, pretty one-sided but got to embrace it.
"The good thing is a few of us have been there for finals before. The 2015 World Cup was a career highlight, so to be out there in a final in India, can't wait."
Cummins said he knew the pitch would spin later in the match.
"We thought it would spin quite a bit. Wasn't expecting Starcy and Josh to bowl so much early. Bit gloomy, swinging around so wasn't too upset."
'Davey diving around in incredible'
Talking about impressive fielding display by his side, Cummins said, "Something we talk a lot about. Wasn't up to scratch at the start of the tournament.
"Davey (Warner), 37, diving around, incredible. And the big two up front were incredible."
On Travis Head getting two wickets, he said, "he has this knack of finding a wicket. Been different bowlers chip in through the whole tournament.
"Inglis also played that beautifully. He looked in control against two really good spinners on a tough wicket."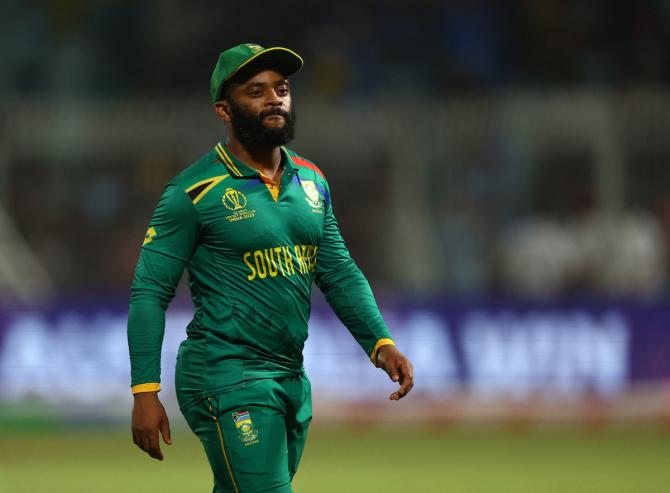 It was a dog fight: Bavuma
South Africa captain Temba Bavuma said it was a "dog fight" but admitted that Australia were outstanding for a large part of the game.
"Quite hard to put into word. Our character came through. It was a dog fight. The way we started with the bat and the ball was probably the turning point, we lost it quite badly there."
Asked about the reasons of South Africa's top-order batting collapse, Bavuma said, "Conditions and the quality of the attack. They (Australian bowlers) were ruthless. Presented with the conditions but they really put us under pressure."
South Africa were reduced to 24 for 4 in the 12th over before David Miller struck a magnificent 101 to take the score past 200-run mark.
"We were gaining momentum at that point (before dismissal of Klaasen). We've seen how destructive he can be in the latter part of the innings. David Miller showed what he can do as a player and his mentality.
"Would have liked to have bowled better, it allowed the other batters to play themselves in. Shamsi was terrific, we were competitive but we needed a lot to go right."
'Could have been more proactive'
He admitted that South Africa had some tough chances (fielding) that went abegging.
"We had chances - tough chances - but we put them down. Could have been more proactive but you need things to go your way."
Bavuma also praised Quinton de Kock and Gerald Coetzee for their performances in the tournament. It was de Kock's farewell game in the 50-over format.
"As a young guy, he (Gerald Coetzee) was a warrior. There wasn't much happening for him to bowl like that and get the wicket of Smith, get us back into the game. He kept on going until he was cramping.
"He (De Kock) had an outstanding tournament. Would have wanted to end on a different note, but he'll remember the fight we showed as a team. We've enjoyed playing with him, in SA he will go down as a legend of the game."