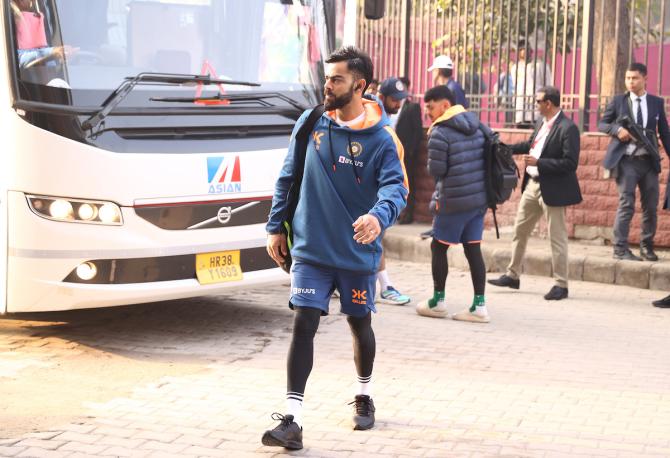 Star Indian cricketer Virat Kohli has redefined fitness on the cricket field. The brand that celebrates his philosophy and way of life, one8, is launching its premier run in Bengaluru on March 26th with a similar vision.
The NEB one8 Run is open to everyone, offering three categories - 5 km, 10 km, and 18 km. This run provides amateur runners and seasoned athletes the opportunity to be part of a larger community. The run marks India's first 18 km run, which is inspired by Virat Kohli's jersey number 18.
The cricketer will himself flag off the race, emphasizing his commitment to promoting fitness among his fans and followers. The run gives an opportunity for his fans to connect with him on a deeper level, giving them access to an unseen side of his personality.
The run aims to energize runners and promote the message of fitness across India, aligning with one8's vision of encouraging a healthier lifestyle.
The run is scheduled to take place at the Nice Road Toll Plaza, Dwaraka Nagar, Hosakerehalli, Bengaluru, and the race timings will be as follows - 18 km: 6:00am; 10 km: 6:30am; 5 km: 7:45am.
Kohli, owner of one8, said, "I am elated to launch the one8 Run and provide everyone with an opportunity to experience the thrill of running. The run aligns with our vision of promoting a healthier lifestyle and encourages everyone to take the first step towards fitness. I am looking forward to a great participation."
Jogesh Lulla, Co-Founder & COO Cornerstone Sport, said, "As part of Cornerstone and one8's vision to encourage people to take up fitness as a hobby, we have launched the one8 Run. It gives us immense pleasure to take Virat Kohli's vision forward and introduce the 18km Run for the first time in India."