'Why did Facebook block my account & deleted all the posts without my permission?'
IMAGE: Mohammed Shami's wife Hasin Jahan speaks to the media in Kolkata on Friday. Photograph: PTI
Fast bowler Mohammed Shami's wife Hasin Jahan, who has accused her husband of torture and having extra-marital affairs, slammed social networking site Facebook for blocking her account.
"I have not received any help from anyone. So I took to Facebook to speak of my ordeal. Why did Facebook block my account & deleted all the posts without my permission?" she wrote on Friday.

However, Shami has rejected the reports of his extra-marital affair, saying that someone is conspiring to ruin his career.

She also uploaded photos and phone numbers of the women.

Jahan alleged that Shami, 27, and members of his family had even tried to kill her.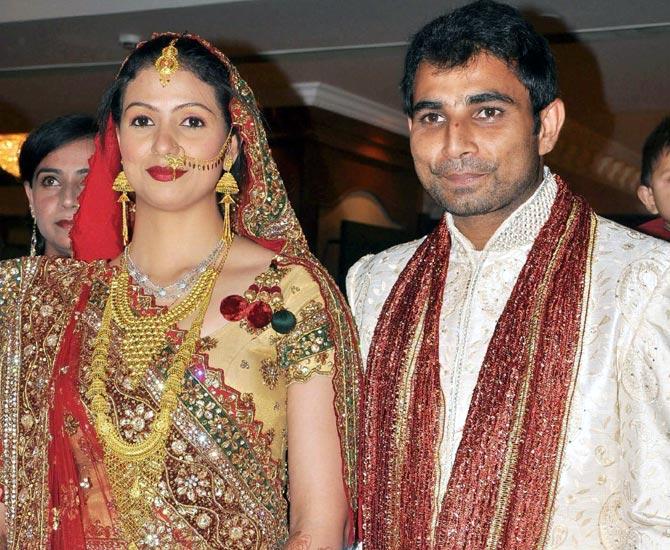 FILE IMAGE: Mohammed Shami and his wife Hasin Jahan after their wedding in 2014. Photograph: PTI
An FIR has also been registered against Shami and four other members of his family on the basis of a complaint filed by his wife Hasin Jahan, who filed a complaint alleging adultery, torture and threat to her life.

The cricketer has been booked under sections 498A (Husband or relative of husband of a woman subjecting her to cruelty), 323 (Causing hurt), 307 (Attempt to murder), 376 (Punishment for rape), 506 (Criminal intimidation), 328 (Causing hurt by means of poison, etc., with intent to commit an offence.), 34 (Acts done by several persons in furtherance of common intention) of IPC.

Shami's name was withheld from the BCCI central contracts list, but the Bengal pacer said that he has full faith that the Board of Control for Cricket in India will be behind him no matter what and will accept its decision.

Shami termed the claims baseless and 'conspiracy to malign my name and ruin my game'.

Shami has played 30 Tests for India, claiming 110 wickets so far. The injury-prone bowler has also appeared 50 ODIs and seven Twenty20 Internationals, picking up 91 and eight wickets respectively.