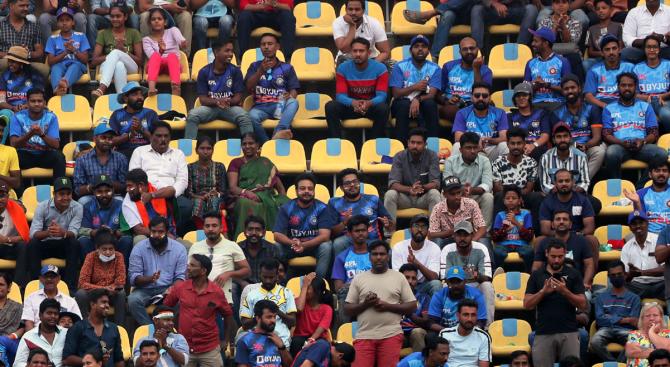 Poor turnout for the third and final ODI between India and Sri Lanka at the Greenfield International Stadium, in Thiruvananthapuram, on Sunday raised serious questions about the relevance of the 50-over format, with former star Yuvraj Singh also flagging concerns.
The match was rendered inconsequential after India took an unassailable lead by winning the first two games of the heavily one-sided series.
India is scheduled to host the ODI World Cup later this year, and the many empty chairs at the Greenfield International Stadium did not make for good viewing.

"... But concern for me half empty stadium? Is one day cricket dying?" Yuvraj, India's 2011 World Cup-winning hero, asked on twitter during India's innings.

The stadium, which saw a packed house in its only other ODI -- a rain-affected match between India and West Indies in 2018 -- wore a near-desolate look thanks to the lukewarm response from the locals.

Only about 17,000 spectators turned up in the 38,000-capacity stadium for Sunday's match. This included complimentary pass holders, vendors, those in the corporate boxes and the ones with accreditation.

Kerala Cricket Association media manager Krishna Prasad blamed it on several factors including the "lack of interest" for ODIs.

"We never had a half-empty stadium. There are several reasons. We don't see much interest in ODIs nowadays," Prasad said.

"Moreover, the series was done and dusted in Kolkata (with India taking an unassailable 2-0 lead), and with the opponents being Sri Lanka many people chose not to come to the stadium."

Tickets were priced at Rs 1000 and Rs 2000 for the match.

"Not a single ticket was left during the match against the West Indies. It was a rain-affected match and we didn't get to see full 50 overs action, still people packed the stadium," Prasad recalled.

Barring Eden Gardens where more than 55,000 people turned up, the series has been marked by low attendance. Even Guwahati, a place known to attract large crowds, was far from being a full house.

The Barsapara Stadium in Guwahati, which witnessed a high-scoring match with India posting 373/7, welcomed about 25,000 people in a 38,000-capacity venue.

An Assam Cricket Association (ACA) official had blamed it on the high prices of tickets and the match being hosted on a weekday.

Barring a few tickets which were given to students for Rs 475, the prices ranged from Rs 1,500 to Rs 5,000.