Even though CSK was benched for two years, the popularity of the team, mainly because of the their player line-up and its swashbuckling skipper Mahendra Singh Dhoni, is intact.
Urvi Malvania reports.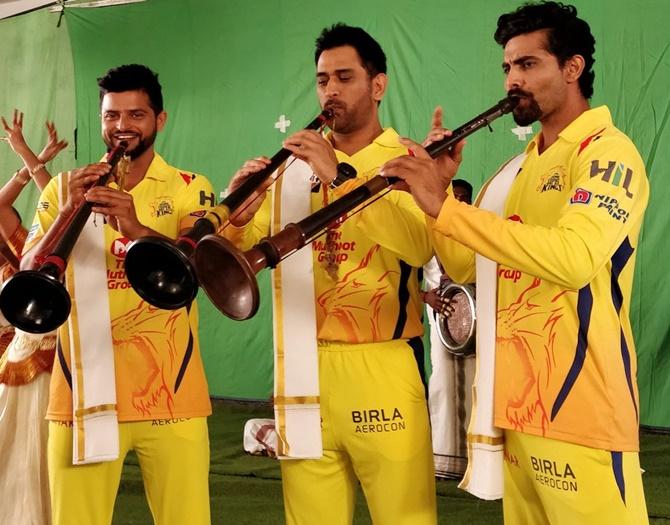 Superheroes and cricketers are of the same feather when it comes to Indian fans, so believe franchise owners and managers of the eight teams playing the Indian Premier League 2018.
Eleven years into the league and after a 70 per cent year-on-year growth in merchandise sales over the past three to four years, albeit on a low base, the franchise owners are coming up with innovative games and shows around their teams besides spinning a wider range of merchandise around their star players.
According to a report (Showbiz: The Indian Superpower Entertainment Marketing Report by ESP Properties, December 2017) India's licensing market will grow at 7.4 per cent, which is higher than the growth in the US, Canada and the UK combined.
The top 150 global licensors (which include non-film brands) reported total retail sales of Rs 17.51 trillion worldwide in 2017.
India's share in the global licensing pie is 5 to 7 per cent and of this, sports merchandising accounts for 13 per cent of the total.
L&M has been on the IPL radar for a few years now, team owners enthused by the swelling online fan base and conversations around the league games on social media have long sought to leverage the reach and pull of their players.
The IPL teams also have the advantage of being in the game for a decade, which has helped nurture a large base of fans.
Experts believe that fan base and loyalty have evolved over time.
"At first, there were supporters going for a city or the players. Those were the factors that attracted loyalty of the fans. But as the seasons went by, the performance of the teams and the players associated with it became more important," says Bhavik Vora, founder, Black White and Orange, a licensing agency based in Mumbai.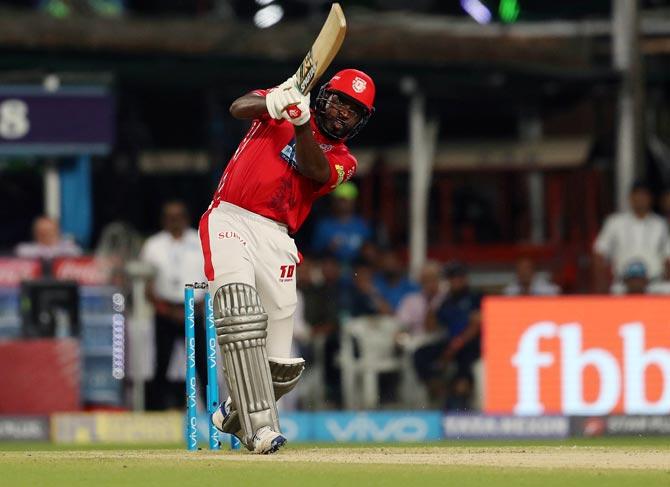 This is especially true for teams such as the Mumbai Indians, the Kolkata Knight Riders, the Royal Challengers Bengaluru and the Chennai Super Kings.
Even though CSK was benched for two years, the popularity of the team, mainly because of the their player line-up and its swashbuckling skipper Mahendra Singh Dhoni, is intact.
The team has slipped back into the first year of playing after a two-year hiatus with an elaborate merchandise portfolio.
The market too has evolved over the years.
A flourishing set of e-commerce players has helped IPL franchises push their merchandise.
Almost all teams are available at some online destination. KKR, Mumbai Indians and Kings XI Punjab are present on The Souled Store while others are present across Amazon, Flipkart and other marketplaces.
"L&M continues to be a key focus area of growth for KKR," says Venky Mysore, MD and CEO, KKR.
"Our aim is to be at par with top sporting clubs around the world. And we have pioneered many initiatives, be it through launching an online marketplace for fans or forging exciting partnerships with brands," Mysore adds.
The teams can do a lot more believe L&M experts.
There is an opportunity for innovation here by collaborating with other popular entertainment franchises.
"That way, you get to target two fan bases and provide something new," says Vora. He is looking at collaborations with entertainment franchises, the superhero franchise, for instance.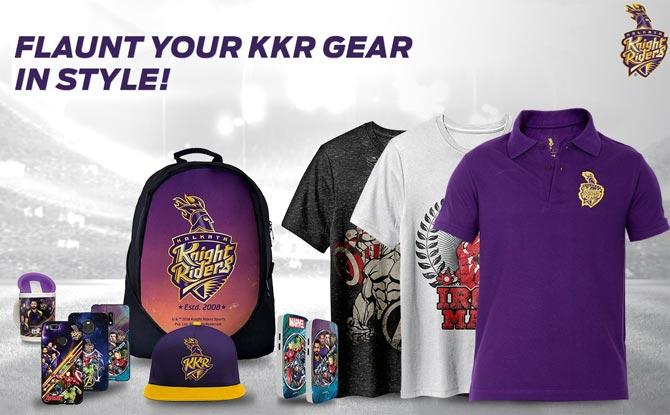 KKR says it has a back-to-school range with Marvel, based on the Avengers collection. This includes apparel and games, it is more than packaging the team says.
An example of the collaboration is a dart game where players are divided into the Avengers and KKR players, bringing both the franchises together not only in the packaging, but also in the actual game.
"KKR along with Indiagames (the digital arm of Walt Disney India) has developed an immersive experience, where fans get a chance of actually running and managing a team," adds Mysore.
As a result, the merchandise arm of the team has seen 70 per cent year on year growth over the past few years. Experts believe this would be true to all the top teams.
A market like India, however, poses multiple challenges. For one, being a price sensitive market, franchises and their retail partners are forever trying to balance quality with cost.
"The challenge is two-fold in this case. On the one hand, there are few to no steps taken to curb piracy. You see jerseys being sold outside match venues which are definitely not official licensed merchandise," says Vora.
"Add to that the fact that the Indian fan has still not evolved to the level of a let's say a football club (international) fan to value original products irrespective of the price, and you have a big problem to tackle," Vora adds.
"Counterfeit products continue to be a big menace in this industry," says Mysore, "and KKR is trying its best to urge its fans to buy only authentic merchandise which apart from far superior quality gives fans a lot more gratification."
However, to stamp down on counterfeits, teams and their licensed merchandise partners need to examine the price-value equation.
As more and more fans wear their fanaticism on their sleeves or hold it in their coffee cups, the market will go wider and deeper.
But only if the price is right, say experts.