'When Shubman is around, I can play my natural game with ease.'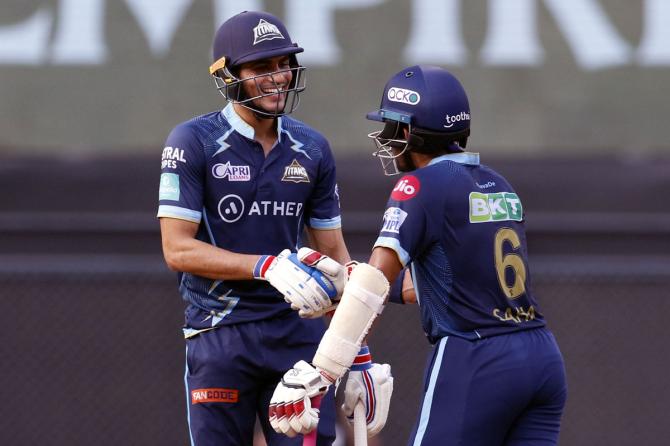 Senior Gujarat Titans player Wriddhiman Saha has forged a successful opening partnership with Shubman Gill and he attributes that to young India international's current form which makes it easier for batters at the other end.
Gill has had phenomenal last three months in international cricket and has also improved leaps and bounds in his T20 game.

"Shubman is in the form of his life. It is so easy batting with him. We know that if Gujarat Titans have to do well, myself, Shubman and Sai (Sudharsan) at No 3 have to bat well. Then it becomes easier for the team," Saha said on Friday.

"But when Shubman is around, I can play my natural game with ease. As Shubman scores upfront, it becomes easier for batters like, me, Sai and Vijay (Shankar). The approach becomes much easier at the other end," Saha said.

Saha doesn't play for India anymore and during this domestic season, he played for minnows Tripura but that hasn't changed anything for the 40-Test veteran.

"I try to keep things simple whether I am playing for India or not. Now that I am playing only IPL, I like to take it match-by-match and prepare accordingly. And everyone has a different approach."

The preparation in IPL is very different from what it is at the domestic level with rival teams analysing performances more closely.

"Process is very different for domestic cricket or the style or approach you can say. You can prepare looking at domestic attacks and in IPL, you have to be aware that opposition is also equally plotting your downfall. When you play for so many years, you are aware generally."

Saha feels that Gujarat Titans have one of the most friendly dressing room atmosphere, with head coach Gary Kirsten and batting coach Vikram Solanki, keeping things light.

"I have been given freedom by team management to go and play my shots in the Powerplay. I have always believed that those who score those extra 20 runs in first six overs, you have 30 to 40 percent advantage straight up."

Barring Virender Sehwag and Prithvi Shaw, Saha is the only third Indian batter to aggregate 1000 runs as an opener in Powerplay overs in IPL.

Does he feel at times that he has perennially been under the radar?

"I don't know if I fly under the radar or not. I am not aware about the stat. If you give a good start, then middle-order can cash in and you can score big. I play the game which I have learnt since I started playing cricket and that is the reason may be I have got a chance to open IPL for various teams."