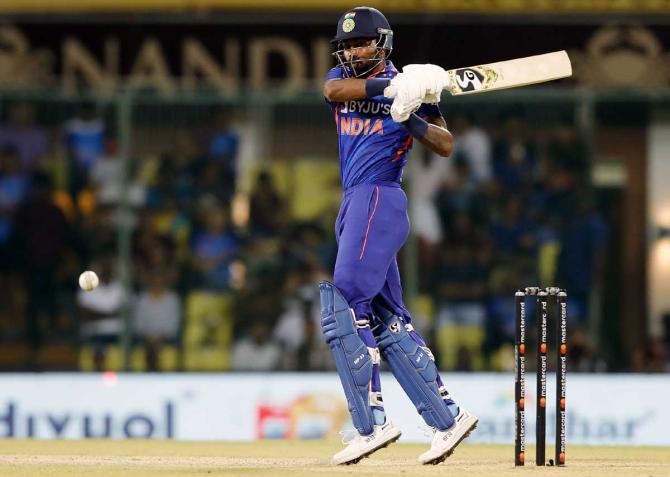 Former Australia player Tom Moody believes India need to be flexible with their batting order in white ball cricket and push all-rounder Hardik Pandya up the order if the situation arises.

He referred to Rohit Sharma's comments in the press conference on Monday to announce the Indian team for the Asia Cup, where the India captain stated that they want to develop a flexible team where any player can bat at any position.

"One thing I want in this team is to make sure everyone is okay to bat anywhere. That is one thing we need to keep in mind," Rohit said.
"You need flexibility, guys who can step up at any position. No one should say, 'I am good at this position or I am good at that position'. You want guys to be able to bat anywhere, that is the message conveyed to every individual. Not now, but over the last 4-4 years."

Moody, who was part of Australia's ODI World Cup winning twice in 1987 and 1999, believes 'match-ups' play a key role in white ball cricket.

"Well, I think in this day and age, whether it be 50-over cricket or 20-over cricket, you need to have an open mind. You need to be flexible, and we talk a lot about match-ups. At times, we talk too much about match-ups in the media, so I think that is where I think Rohit Sharma is coming from," Moody told ESPNCricinfo.

"You know, there may be a case where you might have a left-hander that is due to come out at No 6, then suddenly the opposition brings out a left-arm spinner or a leg spinner. So, therefore, that No 6 is going to be the next person to come into bat."

He stated that India needs to maximize someone like Hardik, who he believes could be the 'impact player' with the bat.

"Now, the thing that is really important from a team's point of view, you have that flexibility and open mind, and I think that is what he was trying to articulate to the media there. Yes, there will be flexibility, but there are a couple of places that may not be moving because really the foundation of your innings needs to be concrete, you need stability there and role clarity there.

"But, you know, Hardik Pandya is an impact player. There may be a time you need to throw him up the order just to get the innings moving quicker than what it has been moving. So, all those tactical nuances, you need to have an open mind too," he added.

The upcoming Asia Cup will be a big test of India's preparations for the 2023 World Cup to be held in India in October-November. India open their Asia Cup campaign with a high-voltage clash against Pakistan on September 2.