'Every year before IPL, I am asked a standard question as to how important the tournament will be for my comeback. You don't play a tournament eyeing a comeback, you play to win it.'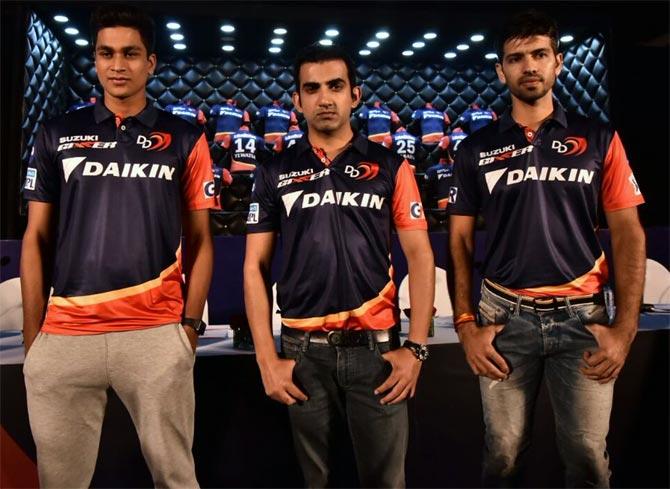 IMAGE: Delhi Daredevils captain Gautam Gambhir, centre, with Manjot Kalra, left, and Naman Ojha. Photograph: BCCI
Gautam Gambhir has had a few run-ins with Delhi's cricket establishment in the last two years but back in the state as captain of Indian Premier League team Delhi Daredevils, the batsman is hoping that playing in a 'peaceful environment' will bring the best out of him.

"It's fun to be in a peaceful environment and I haven't had it in last couple of years," a smiling Gambhir said referring to his regular fall-out with DDCA state selectors, officials and coach.
"It's good fun (to be a part of Delhi Daredevils) and it can bring the best out of me. It will be good that I will be able to play in a good, peaceful and happy environment," Gambhir said in New Delhi on Wednesday.

Having led a successful franchise like Kolkata Knight Riders for many years, Gambhir believes that one shouldn't look at impact players like Glenn Maxwell with their hefty auction price in mind.

"It's not at all difficult to manage players as it's the performance that will keep them in the playing eleven. And it starts with me. I need to perform to be in that playing eleven.

"And sometimes, it's not about price tag but about game-changers, who need to be given a longer rope because they can change the game. You don't expect them to be consistent but you expect them to win three or four games," Gambhir stated.

"It's not about price tag as it's not in players' hand. The only thing in players hand is to perform for the team. That's what's going to keep him in the side," the skipper added.

Questioned if it's a difficult to lead a new side which is not his handpicked, the stylish left-handed replied;"It was same when I took charge of KKR in 2011. But in this team, my inputs have been taken. Our CEO Hemant (Dua) got me and (coach) Ricky (Ponting) on the same page. When I look at the side, I see there's a lot of potential."

Gambhir also took a dig when a scribe asked the most cliched question about whether IPL could be a vehicle for India comeback.

"Every year before IPL, I am asked a standard question as to how important the tournament will be for my comeback. You don't play a tournament eyeing a comeback, you play to win it.

"It is a selfish way to think that you are playing a particular tournament for comeback. You can never win the IPL like that and my aim is to win it for DD.