'He has been RCB's leader since 2013 and RCB's best performance under him has been runners up in 2016.'
'In 2013 and 2014, RCB didn't reach the Playoffs stage.'
'In 2015 it reached that stage.'
'In 2017, RCB didn't go beyond the league stage.'
'Sometimes, a change at the top leads to a change in a team's fortunes,' says Sudhir Bisht.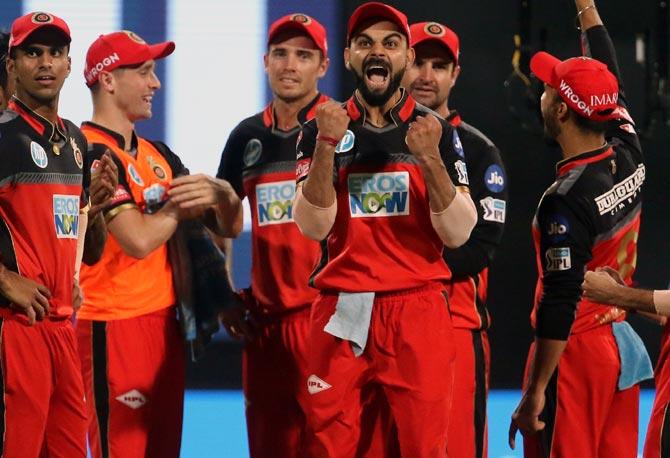 IMAGE: Royal Challengers Bangalore Captain Virat Kohli and his team-mates celebrate Rohit Sharma's wicket. RCB had a morale-boosting win against the Mumbai Indians, May 2, 2018, Photograph: BCCI
'Success consists from failure to failure without loss of enthusiasm,' Winston Churchill once said.
The quotation is meant to uplift the sagging spirits of a man or a team that seems to be losing its way. But this is not to suggest that the failures shouldn't lead to change of leadership.
I also recall a quote attributed to Alexander the Great" 'An army of sheep led by a lion is better than an army of lions led by a sheep'.
Let's cut to cricket and to the ongoing IPL 2018 that is being watched by cricket crazy India. One of the most hyped sides in the IPL is led by one of India's most charismatic and explosive batsmen, Virat Kohli.
Even though this team of lions is led by the Lion King, the Royal Challengers Bangalore is losing its way into nothingness. Its failures -- intermittent with stray wins -- is leading to a huge loss of enthusiasm among RCB fans.
Kohli is regarded the top batsman in Tests and ODIs. His record as a batsman is phenomenal.
He is already being talked about as the batsman who will break all the batting records of the greatest of them all, Sachin Tendulkar.
He has the technique that would make Sunil Gavaskar nod his head in approval.
His temperament as a batsman is getting closer to the temperament of 'The Wall', Rahul Dravid.
And his scoring runs at a fast pace has shades of Virender Sehwag at his peak.
In short, Kohli is the wonder batsman who can walk into an all time World XI, even though he still has another six to eight years of cricket left in him.
As a fielder, Kohli is a tiger on the prowl.
He can leap like a kangaroo to take a difficult catch on the boundary line. He may not have ever dropped even one easy catch in close catching positions.
He dives like a beach-volleyball player to stop a ball from going past him.
His throws from the outfield seldom miss the stumps and his attitude on the ground is that of a winner.
In short, Virat 'Chiku' Kohli is India's superstar, loved by every single Indian.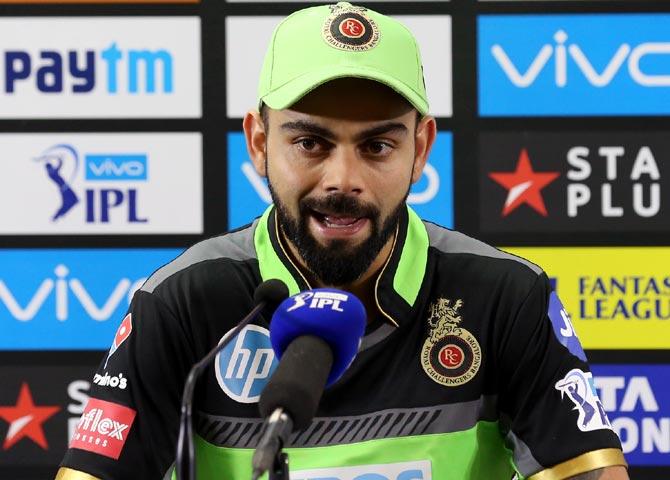 IMAGE: Virat Kohli admits to having misread the M Chinnaswamy track that turned out to be a batsman's paradise on April 16, 2018.
The Rajasthan Royals posted 217/4. RCB ended up 198/6. Photograph: BCCI
As captain of the Indian team, Kohli has a record so outstanding that he is touted as the most successful Indian captain of all time.
He held the record of being the longest unbeaten captain, till India lost the Test series in South Africa earlier this year.
As captain of India's ODI team too, Kohli has been outstanding.
What is remarkable is that his batting seems to have blossomed even more with the mantle of leadership falling on him.
His public image too is on the ascendancy and from being a brat who once fought on the field with his rival captain, Gautam Gambhir, and was way too aggressive with the media, he has come a long way.
Look at the civility and poise he maintained in his struggle with Anil Kumble, making the latter step down as India's coach.
It is creditable for both Kumble and Kohli that in spite of bitter differences between them, they didn't wash dirty linen in public.
Round one went to Kohli who humbled Kumble, one of India's most respected and loved players. There was no visible outcry against Kohli for not being able to gel with the genial Generalissimo that Anil Kumble is.
Such is the adoration of Indians for its winning captain Kohli.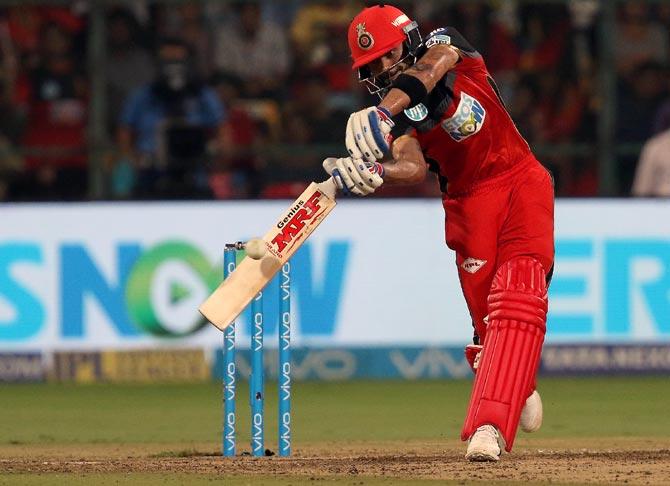 IMAGE: Virat Kohli hits a boundary in the game against the Kolkata Knight Riders, April 30,. 2018. Photograph: BCCI
But Kohli's record as RCB captain has been far from impressive.
After playing 9 matches (up to May 5, 2018), RCB has lost 6 games and won just 3.
The team's Net Run Rate stands at -0.367 and should ring alarm bells for Kohli.
It can be argued that Virat himself has been in good form, but as captain, his job is not only to score runs, but to ensure that his team is on the winning side more often than not.
With a battery of big-hitting batsmen like A B de Villiers, Brendon McCullum, Quinton de Kock and Kohli himself, along with Manan Vohra, RCB has a very strong batting line-up.
In RCB's last game against the Chennai Super Kings on May 5, RCB's formidable batsmen could score only 127 runs, batting first.
Barring Kohli, no other RCB batsman is in the Top 10 highest scorers in IPL 2018.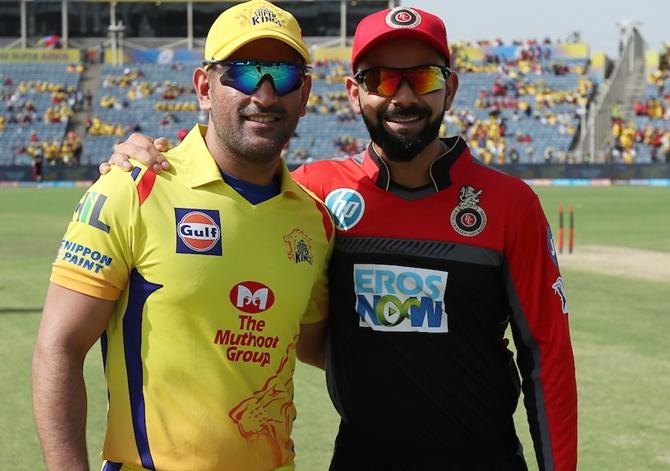 IMAGE: Chennai Super Kings Captain Mahendra Singh Dhoni with Virat Kohli, before the CSK-RCB game in Pune, May 5, 2018. Photograph: BCCI
A study of RCB's nine matches reveal that their batsmen are equally to be blamed for the team's losses.
In the first match, against KKR, the RCB batsmen were at least 15 runs short when they could only score 176/7, batting first. The KKR batsmen reached that score with 7 balls to spare. Kohli blamed the lack of runs scored by his batsmen for this loss.
When RCB lost its third match, playing against the Rajasthan Royals, its batsmen simply wasted away at 198/6 in 20 overs, chasing RR's mammoth 217/4, Kohli attributed it to the profligacy of his bowlers.
RCB lost its fourth match against the Mumbai Indian. Its batsmen could score just 167/8, chasing MI's 213/6. Kohli felt his batsmen threw their wickets too quickly.
RCB played its sixth game against the Chennai Super Kings and scored an impressive 205 runs. Much to Kohli's dismay, CSK romped home in the last over on the back of some brilliant batting by M S Dhoni and Ambati Rayudu. Kohli blamed his bowlers again for the unexpected loss.
RCB lost its seventh match against KKR. Batting first, RCB posted a decent 175/4 which KKR overhauled with 5 balls to spare. Kohli blamed poor fielding for the loss.
RCB lost their ninth game against CSK. The RCB batsmen posted a paltry 127/9.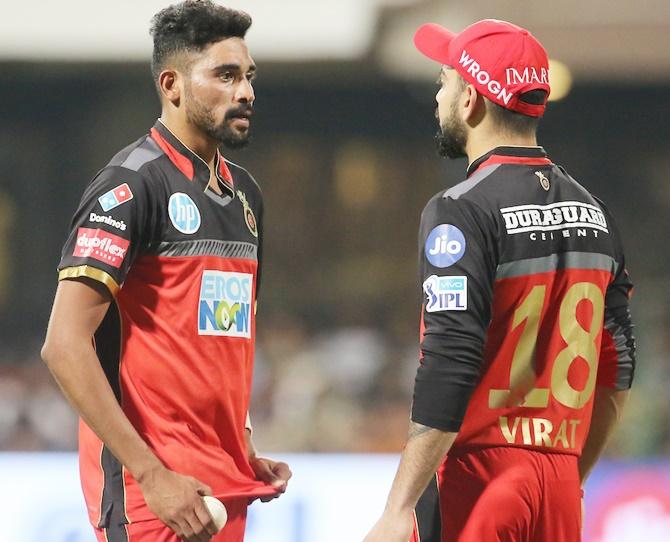 IMAGE: Virat Kohli has a chat with RCB pace bowler Mohammed Siraj.
Chennai Super Kings chased down 206, and the RCB skipper lashed out at his bowlers' 'criminal' bowling, April 26, 2018. Photograph: BCCI
An analysis of RCB's defeats reveal that its bowlers cannot be solely blamed for its losses. Its star batsmen are equally to be blamed. RCB's expensive expat recruits -- McCullum and De Kock -- have been inconsistent top of the order.
Many people say RCB just doesn't have the bowlers to defend even the big totals that its famed batting line up can produce. I don't agree.
In Umesh Yadav, RCB has a fantastic bowler who can take wickets with his express deliveries. In fact, he is the highest wicket taker in IPL 2018, having played all 9 RCB matches.
RCB has Chris Woakes as Yadav's fast bowling partner. Yadav and Woakes took 17 wickets each in IPL 2017.
Yuzuvendra Chahal is rated as the best Indian bowler in T20 cricket. He has an economy rate of under 8 runs an over and a strike rate of a wicket every 13 balls in T20 internationals.
Washington Sundar came into the IPL on the back of a very strong showing in the Nidahas Trophy in Sri Lanka. He was the Man of the Series in Sri Lanka for his excellent showing with the ball.
Chahal and Sundar both play for RCB.
So my contention is that Kohli's RCB has proven talent in its bowling and batting unit. Any team that boasts of two leading fast bowlers in IPL 2017 and two most successful spinners on recent form can't be a weak bowling side.
Add to that the fact that Pawan Negi was among the top 10 wicket-takers in IPL 2017. This means that RCB has a strong bowling side.
Why then has RCB has lost 6 out of its 9 matches it has played so far?
Is it something to do with the team composition or the players' morale or with the tactical planning during matches?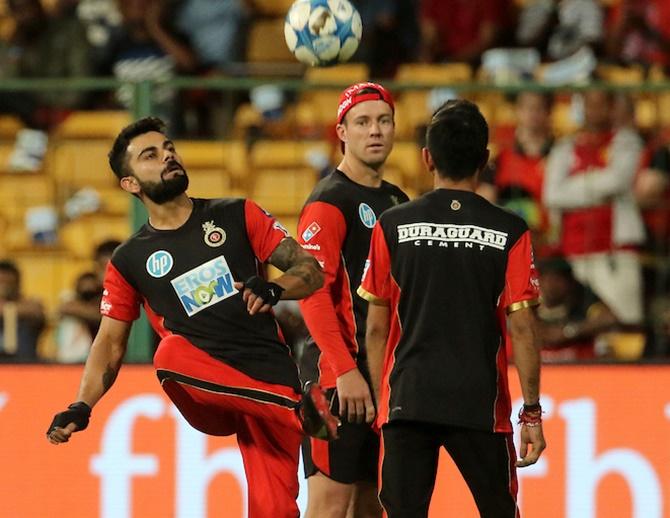 IMAGE: Virat Kohli, A B de Villiers and Yuzvendra Chahal play football ahead of an IPL game. Photograph: BCCI
I believe RCB's luck could change with a change at the top. The best batsman in the world, across all formats, has been unsuccessful as RCB's captain.
He has been RCB's leader since 2013 and RCB's best performance under him has been runners up in 2016.
RCB under Kohli has been fairly unimpressive. In 2013 and 2014, RCB didn't reach the Playoffs stage.
In 2015 it reached that stage and in 2016 RCB was the second best team.
In 2017, RCB was very mediocre and didn't go beyond the league stage.
While Kohli has been an excellent captain for India, playing in India, it is to be noted that he has achieved success by leading a stable, settled, side of stalwarts.
The Indian cricket team in all three forms of cricket is an enviable assembly of some of the greatest batsmen, bowlers and fielders of all time.
To lead such a team of supremely talented players who also bond very well with one another is a great honour for any captain, but this also makes the job easier for a captain.
Kohli has been an inspirational leader who has largely led his side by leading by example. But if Kohli gets so much credit for the Indian cricket team's success, he must be held accountable for failing to inspire his IPL side to perform well.
He has not been able to lift the morale of the young brigade led by Sundar and Chahal. On at least two occasions, the best performing bowlers have been under bowled with key bowlers left with their quota of overs at the end of an innings.
Kohli has not been able to rein in the experienced expatriate players who have consistently given away their wickets after good starts.
In comparison to Kohli's lacklustre captaincy, Kane Williamson of the Sunrisers Hyderabad, Dinesh Karthik of the Kolkata Knight Riders and CSK's evergreen M S Dhoni have set new standards in creativity in tactical planning.
They have inspired their sides with their less aggressive but confidence-inducing style of leadership.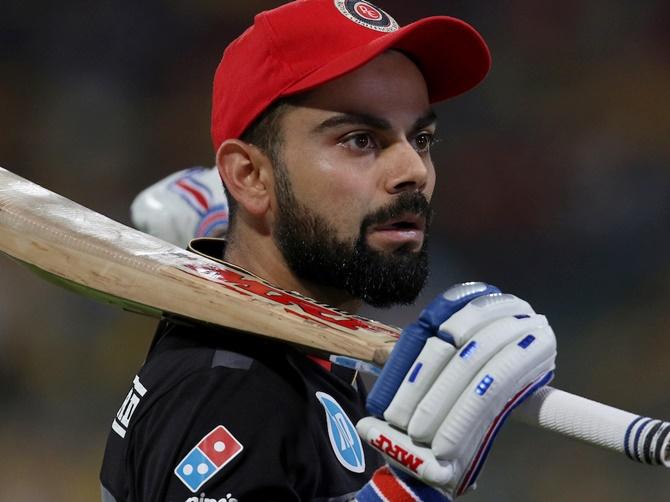 Photograph: BCCI
Perhaps it is time Virat Kohli takes a back seat and gives up RCB's captaincy. His Delhi team-mate Gautam Gambhir has shown the way and it would be nice if Kohli emulates the man who once gave him his Man of the Match award.
Sometimes, a change at the top leads to a change in a team's fortunes.
This will also free up Kohli to keep entertaining us with his batting. There's no one like him in that space yet!
Sudhir Bisht, PhD, author and columnist, writes from New Delhi and tweets at @sudhir_bisht