Chingari, Roposo, Khabri and Trell are seeing huge traction as people are looking at options to earn incentives from home. Music streaming app Gaana, which is strongly placed in the market with 150 million users, recently opened up its short video platform for subscribers.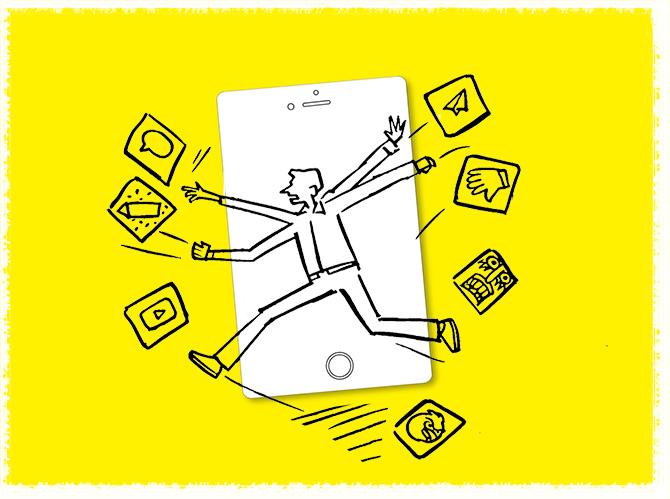 The year was 2017. India had not experienced TikTok yet but Shanghai-headquartered Musical.ly was gaining popularity in the country.
Two friends from tier-II cities of Bhilai and Cuttack, Sumit Ghosh and Biswatma Nayak, who were working at IT consulting company Globussoft, got inspired by the video sharing app and started building something similar for India's smaller cities.
During the same time, ByteDance bought Musical.ly and merged it with its mega app TikTok.
It started spending millions of dollars, cannibalising the India small video content market.
However, Ghosh and Nayak did not lose faith in their application and Chingari was born in 2018.
"We couldn't compete with it (Tiktok) but kept on adding features to the app and building it," says Ghosh, an alumnus of Bhilai Institute of Technology in Durg.
Ghosh, who is also the founder of cash-rich IT firm Globussoft, was putting in money in the app.
He knew that their time will come, sooner or later.
And then came the decision of the Indian government to ban 59 Chinese apps, including TikTok in June.
The fortunes of the Indian company have completely turned since then.
The app, which was almost non-existent till recently, is now being hailed as an alternative to TikTok and has witnessed over 17 million downloads in a month.
The company is today spending $3,000 per day in backend infrastructure to take load of the rising user base.
Its servers are overloaded after frequent download of the app post TikTok's ban.
It is building India's first machine learning-based personalisation and recommendation engine which can predict the content sensibilities of 200 million Indians.
Chingari has rolled out India's first digital reality show Chingari Stars, doling out a prize money of Rs 1 crore that is expected to further swell the app's user base.
The lockdown has also added to the traction that video and audio apps such as Chingari, Roposo, Khabri and Trell are seeing as people are looking at options to earn incentives from home.
"Now is the time for passion economy. With the lockdown, people are forced to look at their passion as a formidable way to generate money," says Pulkit Sharma, founder of Khabri.
Sharma is planning to fill the content gap by turning his app into a personalised radio for users.
Khabri is not a TikTok alternative but has suddenly started seeing huge surge in downloads by up to 80 per cent everyday as it is an audio streaming platform in Hindi.
It appeals perfectly to people in tier-II and tier-III cities who face bandwidth issues while downloading video content.
It provides podcast in 18 different categories including poetry, storytelling, motivational speeches and humour.
When Khabri was started in 2017, video was being touted as the future.
"I came close to being funded at several instances but the investor would say we will fund you but promise us that you will do video eventually," remembers Sharma, who was rejected by over 40 investors in the early years.
A BIT Mesra graduate, he says the company has been approached by up to 10 investors for funding after the Chinese apps were red-flagged by India.
Music streaming app Gaana, which is strongly placed in the market with 150 million users, recently opened up its short video platform for subscribers.
It has already been going strong with music influencers making videos for fans.
The secret sauce of the app is the machine learning engine that Gaana has built over the last 6 years for offering personalised recommendation to users, explains its CEO Prashan Agarwal.
"About 70-80 per cent of content on TikTok was music based.
"It was also a major promotion vehicle for promoting a song. Both these aspects are tightly aligned with Gaana," adds Agarwal, who aims to make Gaana a super app with music, short videos and podcasts being the three pillars of growth.
Pulkit Agrawal, founder of lifestyle social network Trell, has seen his app log 20 million downloads in a month and is going to close a funding round next month.
A coder since the age of eight, Agrawal has developed several apps in the past, including an advanced calculator and a monopoly board game during his IIT Bombay days.
His latest venture, Trell, is like a video Pinterest for Bharat where you can discover your interests such as movies, food, cooking, and gadgets.
The platform is now adding a reaction video maker and live talk show feature to enable content creators who lost the TikTok platform develop a sturdy base here.
Another TikTok alternative, Roposo, which was acquired by InMobi last year, is allowing content developers connect with brands and small business owners to showcase their ventures to earn incentives.
Founded by three IIT Delhi friends Mayank Bhangadia, Avinash Saxena and Kaushal Shubhank in 2014, it is present in 12 languages.
It has seen its user base swell to 80 million with an average user consuming 40 minutes of video content on the platform everyday.
"We are working towards making users come together and collaborate to create interesting content," says Saxena.
Experts say in a bid to fill the artificial gap created by the ban, Indian apps should stick to being themselves, showcasing their plus points while taking TikTok's users on their platforms.
"Companies should not see their products from the lens of TikTok.
"It also had a deep cultural impact on India.
"These apps need to target the deeper parts of India where TikTok was really at the grassroots level and it made changes in the lives of these people," says digital marketing expert Karthik Srinivasan.