The impact of the banking crisis in the US was visible in IT bellwether Tata Consultancy Services' (TCS) weak performance in the March quarter of fiscal 2023 (Q4FY23).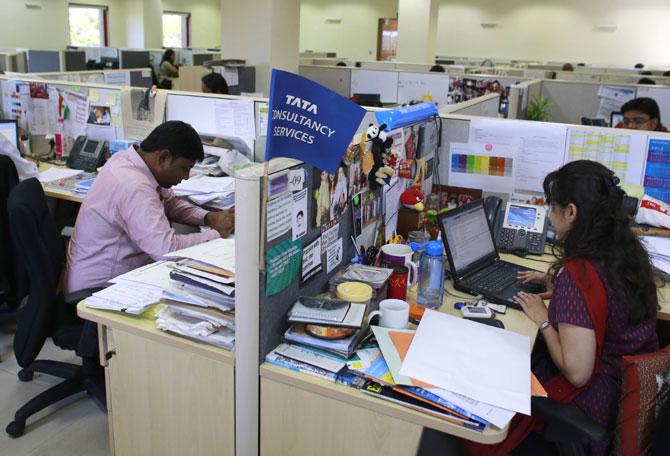 The firm witnessed slower revenue growth in Q4FY23 and failed to meet its FY23 exit Ebit margin of 25 per cent as some clients, especially in the North American region, took to pausing projects and rising onsite costs offset utilisation gains.
Sequentially, the company's revenue grew by just 0.6 per cent on a constant currency basis, which was one of the slowest paces in over 11 quarters.
The management flagged high uncertainty in the banking, financial services and insurance segment (BFSI) over the near term, admitting that a meaningful recovery in North America did not materialise as expected but weakened instead.
The North American region makes for over 50 per cent of the company's revenue mix.
Shares of the company dropped nearly 2 per cent intra-day on Thursday, dragging the entire IT pack by 1-3 per cent.
Going ahead, most brokerages expect an inevitable slowdown for the company in the near-to-medium term.
However, deal wins at $10 million and the long-term demand outlook indicates that its structural story remains intact, they add.
Here's what brokerages said:
CLSA ' Maintain Outperform ' Target Price: Rs 3,550
Management emphasised project suspension is restricted to discretionary small-scale projects and clients' decision-making on large deals is unaffected by the recent global banking turmoil.
The deal pipeline is strong with a growing share of cost-takeout deals in the $50-250 mn range that are typically quick to transition.
While near-term uncertainties may weigh on the stock, we expect TCS' structural strengths and the 4 per cent dividend yield to lend support.
Remain constructive on the stock as we believe the weak April-June quarter (Q1FY24) is priced in consensus estimates.
Jefferies ' Maintain Hold ' Target Price: Rs 3,375
Rising caution among clients across several verticals in Europe and North America, falling book-to-bill ratio, a 5-year low headcount addition and weak commentary points to sharp growth moderation in FY24.
We cut our FY24-25 estimates by 2-3 per cent.
While TCS is better placed in a weak demand environment, its rich valuations leave limited upsides.
Nomura ' Maintain Reduce ' Target Price: Rs 2,830
Heightened macroeconomic volatility continues to delay the recovery in the US across verticals, while the outlook is improving in continental Europe.
BFSI clients remain in cash preservation mode while management noted that certain discretionary projects are being deferred or put on hold as clients prioritise those projects which have upfront cost savings.
We slightly cut our FY24-25 earnings estimates by 1-2 per cent driven both by revenues and margins.
Emkay Global ' Retain Hold ' Target Price: Rs 3,300
Management remains watchful in the near term, considering the heightened macro uncertainties; however, it reiterated confidence in accelerating revenue growth, once uncertainties abate. We lower our earnings estimates for FY25 by up to 1.5 per cent.
IDBI Capital ' Maintain Hold ' Target Price: Rs 3,409
Going forward, although the deal pipeline remains healthy with medium-tenure deals, we believe near-term macro challenges and a slowdown in discretionary spending will moderate revenue growth.
In addition, lower revenue growth will limit margin expansion.
Expect margins to now expand by 100 bps to 25 per cent in FY25 vs an earlier estimate of a 200 bps increase.
We thus lower our revenue and EPS estimates by 2 per cent and 6 per cent for FY25.
---
Disclaimer: This article is meant for information purposes only. This article and information do not constitute a distribution, an endorsement, an investment advice, an offer to buy or sell or the solicitation of an offer to buy or sell any securities/schemes or any other financial products/investment products mentioned in this article to influence the opinion or behaviour of the investors/recipients.
Any use of the information/any investment and investment related decisions of the investors/recipients are at their sole discretion and risk. Any advice herein is made on a general basis and does not take into account the specific investment objectives of the specific person or group of persons. Opinions expressed herein are subject to change without notice.