'There was already a cash crunch and this (lockdown) has created more trouble.'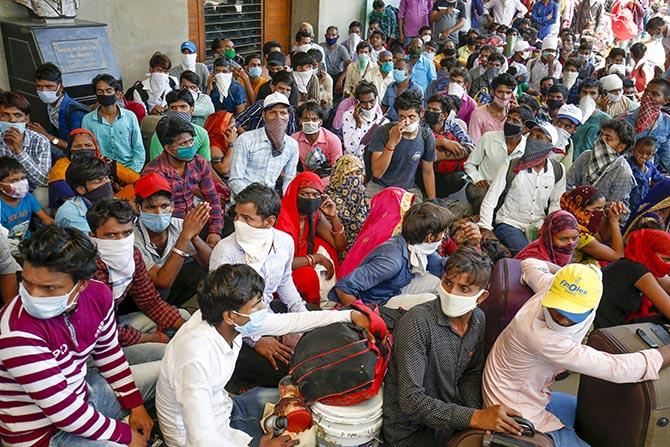 Ludhiana-based Hand Tools Association, part of what is called the micro small and medium enterprises, has moved the Supreme Court of India challenging the validity of the Modi government's order directing employers to pay full wages to workers during the lockdown.
The government's order has come at a time when many businessmen and factory owners are complaining that they do not have money to pay salaries because there is no business activity going on for the last one month due to the ongoing lockdown.
"In April, our earnings was zero, so how will we pay salaries?" Subhash Chander Ralhan, president, Hand Tools Association, asks Syed Firdaus Ashraf/Rediff.com.
What is the reason for filing a public interest litigation stating that you cannot pay salaries during the lockdown?
The industry was already in crisis for the last one year and all of a sudden COVID--19 surprised everyone, to which the government declared a lockdown.
In Punjab, the lockdown was declared on March 22 and on March 29 the order came from the Union home ministry that employers will have to make full payment (salary) and cannot mark labourers as absent.
After this order we have been taking up the matter with the Government of India. We also gave a presentation to the chief minister of Punjab. He also wrote to Prime Minister Modi that if MSMEs are forced to pay full wages of employees for April 2020, then they will go bankrupt.
And when the central government did not hear our plea, we had to go to the Supreme Court.
And what exactly is your plea?
Our plea is that we are paying for workers social security and insurance under the Employee State Insurance Corporation of India. 80 percent of the share is paid by employers.
So now when the crisis has hit the country, we thought we should seek relief under Section 46 of the ESIC Act which says that if a worker is unable to reach the factory and does not do anything, then ESIC is supposed to pay 60 percent of the wages of the employees.
Suppose a worker falls ill and he is declared sick, then 60 percent of his salary is cleared by ESIC.
It is the law and these things have been practised in the past.
Now we are saying the government must pay the wages as it is the duty of the government.
Workers are a part of our family and we are giving them food in these times.
Salary is a huge chunk (to bear).
The amount in salary is around Rs 5 lakhs to Rs 2.5 crore for MSMEs depending how big their staff is.
In April, our earnings was zero, so how will we pay salaries?
There was already a cash crunch in the market and this (lockdown) has created more trouble.
Are you saying you are not bound by the Disaster Management Act to pay salaries?
In the DMA serial number 10 and 12 it is clearly mentioned what the government has to do. Nowhere is it written that the government can give instructions to private companies to pay salaries to their employees.
The job to be done by the government is clearly defined in this Act.
One lawyer who I interviewed told me that employers have to pay salaries.
He must have not read the DMA properly. You read section 12 of the DMA (external link.
Also, we are covered by the Industrial Disputes Act of 1948 and the DMA is contrary to that.
How can the DMA interfere with our working?
Moreover, under the DMA it is the government's duty to feed and show that they are feeding and taking care of every citizen of the country.
You had also asked for a waiver of electricity bills.
The Punjab government has already done that for us, I don't know about other states though. This was the only benefit given to us.
How long do you think it will take for businesses to recover?
It will take a minimum of one year for business to recover.
When the lockdown is lifted, migrant workers will go to their villages. We will be left with only 25 percent of the labour force.
Every worker is keen today to be back home to meet their parents. There will be a severe shortage of labour in the next three months after the lockdown is lifted.
But it seems inhuman to not pay employees their salaries.
We are not making money from the business.
We are giving advance to labourers and we are telling them to give it in writing.
They are like our family, but we cannot pay their salaries. We are giving them food to eat in this crisis time.
But the message that goes out is the employers are avoiding paying salaries in these times of crisis.
You talk to any industrial worker and you will find that every industrialist is giving advance money to each and every worker. Here in Ludhiana that is what is happening for sure.
Nobody can be inhuman in India when it comes to workers's salary. Exceptions though are always there.
What should the government have done, in your opinion?
ESIC has plenty of funds lying with them, and 80 percent of that money belongs to the employers.
Now the employer at this moment needs some assistance from the government. There is a law also that the government must pay wages through the ESIC.
Right now, as I am talking to you, I just got the message that Union Minister Nitin Gadkari is likely to step in to resolve this issue.