'During the lockdown if you terminate your employee, then you will face action under the NDMA.'
'This will be the first time something like this will happen in the history of India.'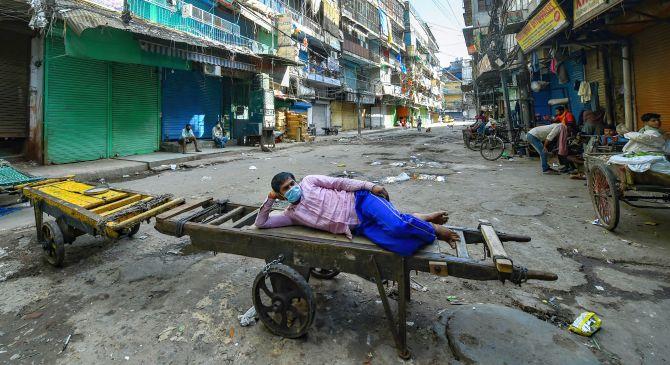 Advocate Tosif C Shaikh, along with two of his lawyer colleagues -- Rajesh G Inamdar and Amit Pai -- has sent a suo motu legal notice to three software companies warning them of consequences for sending termination notices to many employees and announcing salary cuts for others.
Citing the prime minister's appeal to employers not to lay off any employee during the lockdown period, the lawyers sent the legal notices to the companies for issuing termination letters to nearly 100 employees.
Shaikh tells Syed Firdaus Ashraf/Rediff.com it is illegal for companies to sack employees and added that anyone who who has been sacked during this period can approach them to get justice.
You have sent a legal notice to software companies who sacked their employees during the lockdown. Could you please explain why?
On March 22, Prime Minister Narendra (Damodardas) Modi called for a nationwide lockdown. At the same time, the ministry of labour and many state governments brought out a government resolution stating that no employer will terminate the services of any person employed by them.
However, in this situation many companies in Pune sacked employees and put them on notice period. Now our argument is that when there is an all-India lockdown, how can these people go and apply for jobs?
Earning a livelihood is a fundamental right according to the Supreme Court of India and by sacking someone you are snatching away that person's fundamental right.
Therefore, we filed this suo motu complaint against these companies.
But what locus standi do you have to send a notice to these companies since you do not represent the employees who are sacked?
These companies are violating sections 51 and 55 of National Disaster Management Act (external link).
One cannot sack employees.
Prime Minister Modi requested companies not to sack employees, he didn't order them not to do so. Don't these companies have the legal right to sack an employee?
During the lockdown if you terminate your employee, then you will face action under the NDMA.
This will be the first time something like this will happen in the history of India. I have issued this notice in the public interest.
But many companies don't have money to pay salaries. Therefore, they may be terminating a worker's services. Don't you feel this move from your side looks more a publicity stunt rather than in the public interest?
This question is of livelihood. What has publicity got to do with it?
I am sure companies can manage (salaries) for one month.
If companies sack their employees during this time, where will the employees go?
Indirectly, by sacking the employees, you are abetting them to commit suicide. Who will be responsible for that?
But the question is, where will the company give money from when they don't have money?
The companies must bear losses for their employees. So many years they must have made profits and therefore now they can book losses.
How will an employer pay salaries when revenues are nil? Why aren't you looking at this from this perspective?
They too have approached the Supreme Court and are challenging the GR (government resolution).
Some companies work on a global level and if global companies are not paying, then how can they pay money? They are right from their perspective, but then what do employees do because they are facing the burden of financial hardship?
Companies run for profit and they must have made money earlier so they can bear some losses for two or three months.
Will you be fine if the companies sack employees after the lockdown?
Yes, that is okay because they won't have an option to pay salaries post the lockdown (as they will run out of cash).
If a shopping mall is shut, how do you expect people working at the mall to get salaries? There is no business during the lockdown.
You made money from that employee for so many years and now you say you cannot pay for two months.
We are giving salaries to our maids during the lockdown even if they are on leave. So why can't these shop owners give salaries to their employees for two months?
What does the law say about the right to terminate services in the private sector?
It all depends on the agreements and contracts between employee and employer. They can get sacked by getting a month's salary or three months's salary. That all depends on the agreement.
In these circumstances, I feel the government must intervene between employer and employees because of the lockdown. (I fear) white collar job holders will end up like unpaid labourers.
What has been the reply from the software companies to whom you sent notices?
Some of them have come forward and stated that they are now ready to pay the salaries of those employees they sacked during the lockdown.
Some of them are also ready to withdraw their termination notices to the employees sent during the lockdown period.
What are the rights of employees at this time?
No employer must terminate employment during the lockdown and that is stated in the government circular.
The Maharashtra government has issued a circular even to landlords that they must not take rents for three months.
A recent news report stated that two airlines have asked their employees to go on leave without pay during the lockdown. Can they do that?
It is illegal. The airlines cannot do that.
Great Britain has begun a coronavirus job retention scheme. Is an option similar to that possible in India?
Yes, that is the best option. All over the world countries like America and Britain are spending around 8 to 10 per cent of their GDP on coronavirus (economy protection measures).
In India we are spending just above 1 per cent of GDP (economy protection measures). It is too less.