'In India, the impact will be less than 1% of employee headcount.'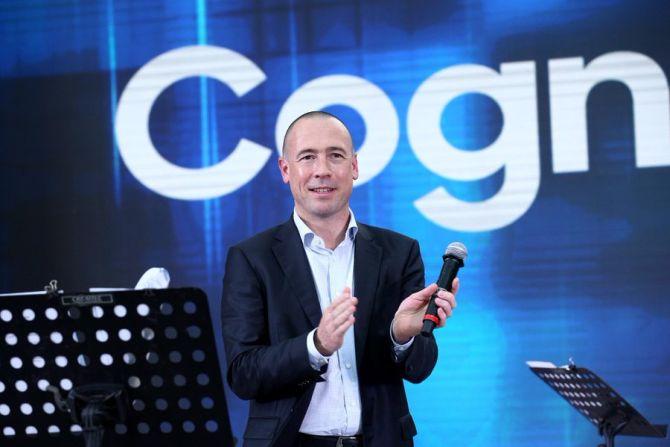 After posting better-than-expected Q3 earnings, Cognizant announced a slew of cost optimisation measures including reduction in job count in the coming quarters apart from exiting content moderation business.
Chief Executive Officer Brian Humphries tells Debasis Mohapatra and Bibhu Ranjan Mishra that impact would be minimal on the Indian workforce and the firm would add more jobs globally as signs of growth picks up in coming quarters.
You recently said cost is not the strategy, but growth is. What is the rationale behind cutting 13,000 jobs?
We are actually planning to reduce 5,000 to 7,000 roles on net basis and not 13,000.
And it's all about growth and job creation.
We expect to continue to increase our headcount in India and overseas in the coming quarters.
But it's also a fact that in a people-intensive business like ours, we have to reduce costs in some areas and invest in skill sets in other areas, which involves difficult choices.
After long deliberations, we announced this for the long-term growth of the company, which will help in creating more jobs.
In Q3, we beat our guidance for (revenue) growth and this growth will create jobs.
When Cognizant says net job loss, what does it mean?
What we have communicated is that 10,000 to 12,000 mid- to senior-level employees will be removed and approximately 5,000 associates will be retrained.
Therefore, we will have a net exit of 5,000 to 7,000 people.
Also, in an industry like IT, the attrition rates are close to 20%.
So, the need to remove those headcount may fall.
Cognizant has a headcount of 300,000 globally, of which 200,000 are in India.
We are talking about 1% to 1.5% of the population and that can again be seen in the context of the attrition rate, which stands around 20% for the industry.
This news has created anxiety among employees in India. What will the impact of this move here?
Impact on India will be zero to a few thousand people.
It's the minimal.
In India, it (the impact) will be less than 1% of employee headcount.
And in parallel, you will see hiring (happening) in other centres of India for new skill sets.
Is the move to reduce mid- to senior-level job roles and hire junior-level employees aimed at improving margin profile?
What we are trying to do is to get back to the employee pyramid which has been eroded in the recent past.
We will hire more fresh graduates and that is why we have met chancellors and vice-chancellors of several Indian universities in the recent past.
We are increasing our freshers's intake by 30% over last year.
So, we are getting the pyramid right with less middle and senior management.
The cost saving from the current restructuring will be around $550 million. Will any of it accrue this year?
We expect 5,000 to 7,000 executives to leave by mid-2020 and the full annualised cost saving will be realised in FY21.
We have also said we will invest hundreds of millions of dollars into the business to fuel growth.
This includes employee bonuses for the coming year, which can be more than 100% and we are also investing $200 million in branding, marketing, system and tools, engaging with academia, hiring more sales people and reskilling employees.
What is the rationale behind exiting the content moderation business at a time when your media and communications vertical has grown handsomely?
We conducted a thorough review of the business and strategy for seven months since I joined.
We looked at areas that are less aligned with our strategic goal.
That's the reason we have decided to exit the sub-section of content moderation operations.
We will, however, remain on the other BPM (business process management) areas of content operations.
In the coming days, we will discuss with our partners how well we can transition these roles (of 6,000 people) to an alternate vendor.
So, our hope is that those roles will not be lost.
While revenues have come above projections, margins continue to face pricing pressure. Do you see margin improvement in the coming quarters?
We have said in the analyst meet that our margins will be 16% to 17% next year.
However, if you exclude the investments towards giving 100% annualised bonus and $200 million for business growth, the margins would really be 2% to 3% higher YoY.
Photograph: Kind courtesy, Cognizant/Twitter