'One of the ways to do that is to ensure that NBFCs have got liquidity.'
'If we don't do that, this mood of gloom will continue.'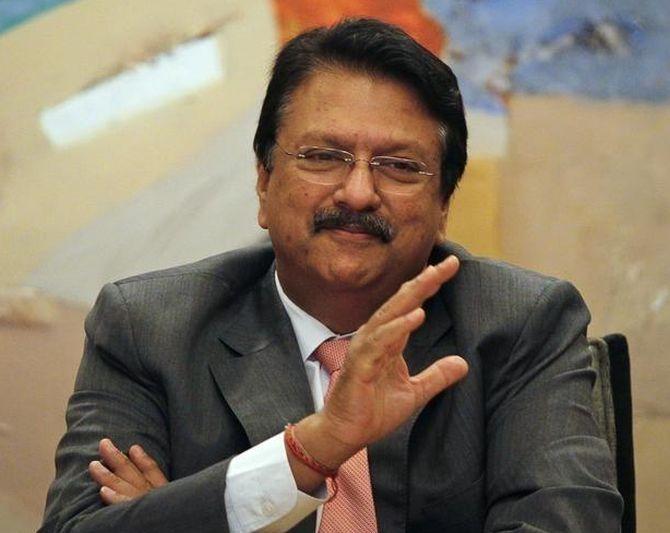 Piramal Enterprises Chairman Ajay Piramal says the drying up of funding to non-banking financial companies has contributed to the slowdown.
NBFCs need to be provided with liquidity if they have to start lending.
Piramal tells Abhijit Lele that in the absence of such liquidity infusion, the current mood of gloom will continue, hindering revival.
What is your assessment of the current state of the economy?
There is no demand. I hope the government will take steps to revive consumption.
People should feel like spending more.
One of the ways to do that is to ensure that NBFCs have got liquidity.
These firms then start lending after which people start buying.
I think if we don't do that, this mood of gloom will continue.
What are the other steps necessary to give a push to the economy?
Instill confidence into the system.
If you look at the economy, it (growth) started going down only because of what happened with IL&FS (Infrastructure Leasing & Financial Services, which defaulted on its debt payments triggering a liquidity squeeze in the market) last September.
Before that we were ok.
After the episode (IL&FS), funding dried up and there was no disbursal to micro, small and medium enterprises, housing and auto.
They are taking steps to better the GST (Goods and Services Tax) regime.
Coming to the fund-raising activity, the company had spoken about Rs 8,000 crore (Rs 80 billion) to Rs 9,000 crore (Rs 90 billion) of equity. You have indicated plans for Rs 5,400 crore (rs 54 billion). Will you raise some more equity?
The divestment of our stake in Shriram Transport brought in Rs 2,400 crore (Rs 24 billion).
Clubbed with the Rs 5,400 crore equity fund plan, it comes to Rs 7,800 crore (Rs 78 billion).
Plus, we will get some more equity. So we are almost there.
How will this money be used?
For somebody who has got liquidity and courage, there are many opportunities in an environment like today's.
Take the example of the NBFC space.
A lot of them (NBFCs) are under stress, so they are leaving a gap in terms of demand.
The valuations have come down. But the risk-adjusted returns will go up.
So if there is a company with a good book, then one can acquire it at very reasonable prices.
The pharma business has been doing well. It has grown by 19% in the last six months and margins are 24%.
We have created a distribution network globally.
There are opportunities in this space.
After the announcement of the Rs 5,400 crore funding plan, the stock closed 8% lower. What is your reading of it?
I do not understand the market.
I know there are operators who have the intention to bring down the stock.
You are guilty unless proven otherwise. They always assume the worst.
In a rights issue, what pricing you do does not matter.
It is the existing shareholders who are coming in.
So the question is -- is this a sign of desperation? CDPQ (Caisse de dépôt et placement du Québec, a Canadian pension fund) coming in is a positive sign in a difficult market.
They participated in the fund-raising exercise two years ago with $175 million.
After that they have bought in the market.
They know the management, the company and the business.
Now they are putting in $250 million. Also, promoters are putting in hard cash. It is a good sign.
The Piramal group has an asset reconstruction company and a fund that invest in stressed assets. How you see the impact of the Insolvency and Bankruptcy Code?
People are now looking at many pre-IBC deals because IBC has not matched the expectations.
But they should also look at the delays that are taking place at various legal forums.
Photograph: Danish Siddiqui/Reuters