'12% of all our global trips are done in India.'
Illustration: Uttam Ghosh/Rediff.com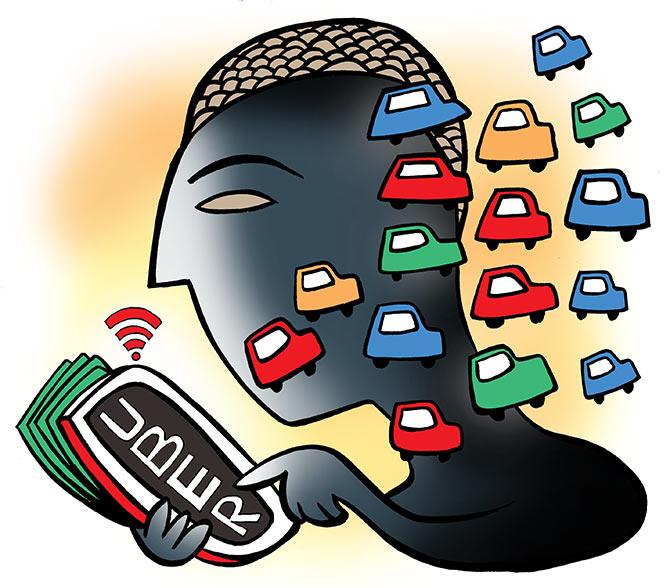 Uber is working to get more of its products and services to India.
It is actively working to find a fix to the most common issue of driver cancellations and unfair cancellation fee charged to riders, Manik Gupta, bottom, chief product officer, Uber, tells Surajeet Das Gupta and Neha Alawadhi.
You are looking at Uber as a platform from where you can expand it to services that are not yours. Where do you see the potential of it in specific areas in India?
Our long-term vision is to be the operating system for everyday life.
From our perspective, we are building Uber as a platform which allows us to support what we are building ourselves and integrate third-party options, including what we did today with public transport.
We are open to having more such partnerships with state bus services or even companies offering micro-mobility options.
Product developments to build customer stickiness vis-à-vis competition, such as foraying into music or video, has also happened lately. Do you see that as a potential in Uber or do you want to stick to just transportation?
In the US, we started off by creating a loyalty programme and we launched Uber Rewards.
It is something we rolled out across the US.
In the US and in other markets, we launched a subscription pass, where for a price, you can get a host of benefits on rides and Uber Eats.
So you might get a certain discount on a ride or you might get free delivery on food.
India is one of our priority markets and we will continue to bring loyalty programmes to India.
How important is the human aspect while designing products? How do address situations where drivers cancel rides, don't cancel or don't turn up?
That's a problem I'm actively working on.
I know driver cancellations are an issue and so are rider cancellations. We have started conducting progress detection.
If a driver is not making progress towards you, how do we respond from a cancellation standpoint?
The thing that people hate as a rider is that you get charged a cancellation fee when the driver cancels on you.
We have improved this somewhat, but I think there's still room for improvement.
Addressing this improves our quality of service.
Are products like health and freight a possibility in India?
India is one of our most important markets.
12% of all our global trips are done in India.
India is already a big market for us in terms of transactions.
Uber Health is an emerging business; it is primarily US-focused, but there is potential in India.
In terms of Uber Eats, it has still not been able to take on the two biggest players in the marketplace. How do you rework the overall offering?
We are very happy with what the team has been doing.
They have been very focused on the market.
There are different challenges -- from phones people use and the dynamics of the local space to the servicing capability of restaurants.
We have started to integrate rides and Eats, where we have the ability to show to a user both options on the same app.
With regard to electric vehicles, what is your India strategy, given your competitor is looking at manufacturing these vehicles?
If you look at our autonomous vehicles, for instance, we don't manufacture the cars.
We basically purchase the cars and then we put our technology on them.
That's not our core competency to manufacture cars.
There are many, many companies that are much better at doing that.
I think our job is to run the best network on which these cars can be deployed, whether they are autonomous or electric, and that's our core focus.