'We have integrated start-up space created in almost all the 14 district headquarters of the state.'
'They have incubation facilities providing entrepreneurs common facilities like shared software, legal support, fab labs, hardware, manufacturing facilities and services like chartered accounting facilities, etc, enabling the start-ups to concentrate on technology R&D and product development.'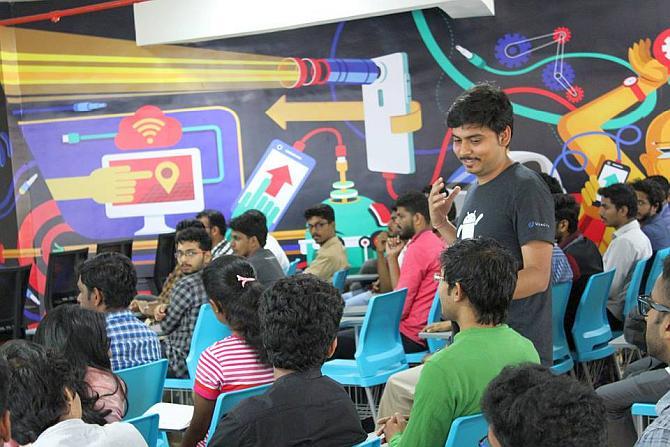 A late-starter in the space, here's why Kerala is fast emerging as the go-to place for knowledge-intensive start-ups.
Rediff.com's Prasanna D Zore spoke with M Sivasankaran, secretary, department of electronics and information technology, Kerala on the sidelines of the second edition of Huddle Kerala, an annual get-together organised by the Kerala Startup Mission and the Internet and Mobile Association of India.
With more than 2,000 attendees -- start-ups, investors, venture capitalists, private equity investors -- Huddle Kerala took place at the beach-facing Hotel Leela Kovalam.
Amid a hectic day marked by the inauguration of Huddle Kerala 2019 by Kerala Chief Minister Pinarayi Vijayan, interactive sessions between experts and attendees, handholding of start-up entrepreneurs, Sivasankaran spoke passionately about how the state is carving out a niche for itself in the competitive start-up scene emerging in India.
Could you tell us how the Kerala government is helping the start-up ecosystem in the state?
And what is it about Kerala's start-up ecosystem that is not found in say, a Bangalore start-up ecosystem or Hyderabad start-up ecosystem?
Bangalore, Hyderabad, Gurgaon or any other so-called hot destinations for start-up ecosystems in the country has had lot of favourable conditions helping their growth.
In these cities, presence of large IT companies, presence of funding agencies, high net worth individuals, and other ingredients of the ecosystem were already very much there.
So start-ups had a fertile ground to start operating in these cities.
The basic difference between these ecosystems and the Kerala start-up ecosystem is that here we are talking about the entire state of Kerala and endeavouring to convert it into a fertile ground for innovation and disruption.
This year we started with setting up innovation and entrepreneur development services in all educational institutions and colleges.
Young students and colleges, if they have an idea, then they have an opportunity to get their ideas get into start-up mode.
We have a catch point in all the colleges where, if any idea can gets validated or verified with the help of industry, and if there is a way forward, then they actually go to an incubator stage.
We have integrated start-up space created in almost all the 14 district headquarters of the state where they have incubation facilities providing entrepreneurs, with the help of the Kerala Start Up Mission (KSUM), common facilities like shared software, legal support, fab labs, hardware, manufacturing facilities and services like chartered accounting facilities, etc, enabling the start-ups to practically concentrate on technology R&D and product development.
And once they get into the next stage we also give them small funding support, an initial grant. Beyond that, KSUM also organises a series of networking events, including Huddle Kerala, investor meets in all the incubation centres and facilitate tie ups with mentors, markets, and funding agencies are created. We have also established a fund of funds, which do investments up to Series A level.
What is the corpus of this fund of funds?
In the first year we have done Rs 30 crore. And the whole idea was that when the government puts in Rs 15 crore, the SEBI-accredited funds, who actually run the scheme, also put in an equal amount, and this entire corpus of Rs 30-crore fund was to be disbursed over a three year period.
To our pleasant surprise, we disbursed the entire corpus of Rs 30 crore in one year.
Now we have stepped up this programme, and have Rs 25 crore fund allocation (from Kerala government), for which we have asked the SEBI-accredited funds to come up with double that amount at Rs 50 crore.
Now we have a guaranteed corpus of Rs 75 crore of funds, but more importantly the funds which are participating in this corpus, have access to a total corpus of Rs 1,000 crore.
The funds, which have been talking to us, have said that the entire Rs 1,000 crore can be deployed in Kerala in case they find adequate number of start-ups.
This has practically solved the funding issue. Now, apart from this fund of funds and mentor connection programmes, we also realised that we need accelerators to take feasible start-up services and products to the marketplace.
Kerala has a very unique situation where, compared to the rest of the country, there are 1,800 start-ups. 30% of them are hardware start-ups. And these hardware start-ups, at each stage of production, face challenges like multi-capital sourcing, design improvement, etc.
We have now tied up with an international accelerator Brinc, based out of Hong Kong, which has set up a hardware accelerator facility in Kochi.
Coming back to your question on how Kerala is different from other start-up ecosystems, right now, we have start-up touchpoints in schools and colleges, incubators at district level, accelerators, and over a period of time we will have this whole start-up ecosystem built in Kochi.
The important point is that we have built it brick-by-brick and the learning has been tremendous.
We now feel that the Start-Up India programme needs to move from the so-called first tier cities to the whole of India. When the (Union) ministry official (Joint secretary, department of industrial policy and promotion, Anil Agarwal) was here, we discussed mainstreaming the Kerala model (building start-up ecosystems headquarters at the district level) on a national scale.
What would be your invitation pitch to investors as well as start-up entrepreneurs, not only across India, but around the globe to come and start up in Kerala?
Kerala offers two things: We have a set of social problems, but consumer expenditure levels of the state are quite high; we have high propensity for quick consumption of innovation and disruptive products.
To that extent, our pitch to start-ups would be if you have a product, which could change the lives of people, the lives of businesses, which would change the social dynamics of the existing society then this is the place to come and experiment.
The propensity of consumption from the consumers and businesses is quite high. The (state) government is also a very strong marketplace.
I can now buy products from start-ups for government use up to Rs 100 lakh (Rs 10 million) without tenders or a complicated process. So, the opening of the market is our biggest pitch for start-ups.
For investors, the biggest pitch is that you have an exciting set of start-ups here. And these start-ups are looking for mentorship, financial support, technology, and so we welcome technology companies, investors as well as mentors, with open arms to Kerala as our start-up ecosystem is quite unique and vibrant.
How is the Kerala government encouraging women entrepreneurs through this start-up ecosystem?
See overall, even globally, the percentage of women entrepreneurs is very minimal. Woman entrepreneurs are part of founder groups, but not substantially. So we have started a very ambitious programme for encouraging women entrepreneurs to come to the front.
And there's a set of support systems which we are putting in place; it is still early days in work. So by the next Huddle Kerala summit, I hope to have more women entrepreneurs and Huddle Kerala would become more vibrant and exciting.
Three reasons why any start-up should come and start-up in Kerala?
The first reason is the market.
That is a very exciting market opportunity here within government, within the civil society, and ordinary consumers who are willing to buy consumer as well as technology products from businesses.
Secondly, we have a fund of fund scheme so your worries up to Series A funding are more or less taken care of.
Finally, look at the overall ecosystem, where you have 1,800 vibrant, professional start-ups from people, who have come out from the industry.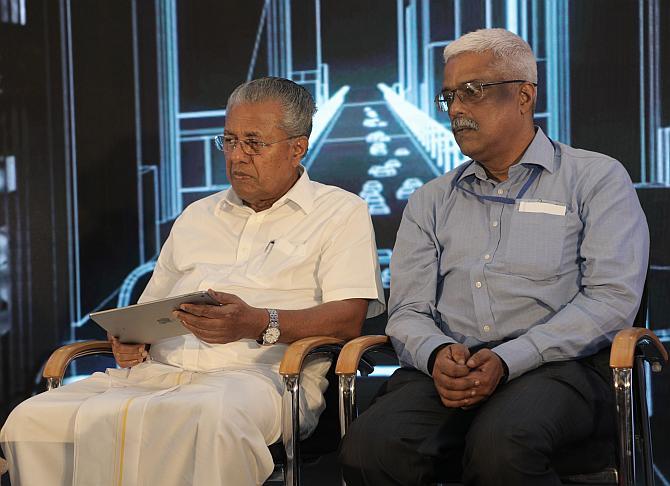 What role is the chief minister playing in handholding this start-up ecosystem?
The honourable chief minister has been very clear that since the state has not much scope for the industrial sector, Kerala must leverage its obvious advantage in the knowledge economy and human development index. That are our strength areas.
He has also asked us to find out the key drivers that would increase and sustain Kerala's start-up ecosystem. India has one of the most cost effective space programmes in the world. It is very well acknowledged, and the entire space ecosystem is headquartered out of Trivandrum. We have around 10,000 people in the ISRO campuses here; we have the Indian Institute of Space (IIST, Thiruvanathapuram).
We have an amazing talent in the form of very young space scientists and science graduates here. As per the CM's directions we have been having discussions with ISRO and IIST to set up what we call a SpacePark. It is work in progress right now.
I hope these types of interventions where we look around, find out what are the unique advantages the state has, presence of academic institutions, major R&D facilities, would take Kerala's knowledge industry to the next level.
One more example I would like to mention is that in 2018 we had massive floods and in 2019 also we had the same problem. During these floods, technology start-up companies in Kerala played a spectacular role in the rescue, relief and flood management.
So, the Kerala CM has asked us to explore the possibility of bringing all these things together into a disaster management product incubator, which would have multiple start-up companies working on solutions to problems faced during floods and other natural calamities.