'The belief that FDI will shift from China appears to be a strategy of politicians to keep the media busy, chasing irrelevant news to ward off pressure and questions about the government's plans to deal with COVID,' observes Debashis Basu.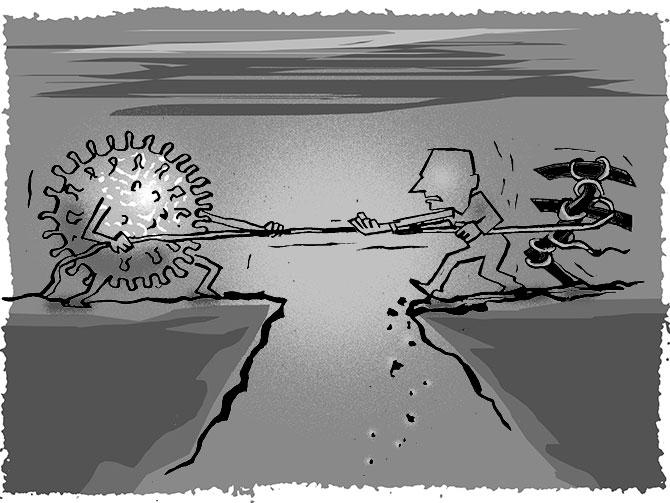 On April 28, while discussing the COVID-19 situation with chief ministers, Prime Minister Narendra Damodardas Modi reportedly made the strange claim that many companies would exit China, and that India should be ready to attract investment by them.
After all, India has abundant manpower, skill, and an improved infrastructure, he said.
Soon, Union Minister Nitin Gadkari told a business channel: 'In the whole world, there is a hatred for China and the Chinese economy... this is a blessing in disguise... an opportunity for India and Indian investors and particularly the MSME (micro, small, and medium enterprises)... an opportunity for India and for foreign investment.'
A subsequent news report claimed: 'India has stepped up its game to attract investments from companies considering shifting from China.'
Invest India, a government arm to promote and facilitate global investment in the country, has already drawn up a list of close to 1,000 global companies for making investment pitches.
Another news item said India was developing a land pool nearly double the size of Luxembourg to lure businesses moving out of China -- an area of 461,589 hectares has been identified across the country.
The Assam government announced that it was planning to woo multinational companies willing to shift base from China, to set up production facilities in the state.
The orchestra is building up to a crescendo.
Suddenly BJP-ruled Uttar Pradesh and Madhya Pradesh suspended almost dozens of labour laws, barring a few, for the next four years.
Since businessmen complain about onerous labour laws and that the 'inspector raj' flourishing under them hinders growth, the government believes suspending labour laws would attract billions of dollars.
Will it?
I would be surprised if there is even a tiny bump-up in foreign investment leaving China and coming into India, following COVID. Here are my reasons:
Anyone really leaving China?
Dr Subramanian Swamy, an economist and a China expert, points out that countries are not like kirana shops, offering the same products at marginally different prices, which may encourage buyers to shift from one to the other.
These decisions are not impulsive and not event-driven, and are far more complex.
Not surprisingly, when the American Chamber of Commerce in China did a survey in March, they found that more than 70 per cent of companies said they had no plans to relocate production and supply chain operations or sourcing outside China due to COVID-19.
The whole premise of foreigners leaving China in droves is false. What is the reason?
Foreign companies first went to China for massive supply chain efficiencies, labour productivity, and world-class infrastructure.
They are there also for the huge domestic market.
Not only does an epidemic not change that, China has actually reinforced its image of efficiency by the way it controlled COVID-19.
Alan Beebe, president of AmCham China, reminds us: 'China appears ahead of the global curve when it comes to restarting the economy following months of lockdown, and many of the reasons why companies are in China in the first place still hold true today.'
Businesses leaving China for India to get all excited? Not much evidence.
In fact, it is impossible for large interlinked businesses like autos to just get up and relocate themselves.
And even if some businesses leave China, why will they come to India?
India is unattractive for foreigners: In 2018, India dropped out of the top 10 destinations for foreign direct investment (on the AT Kearney FDI Confidence Index for the first time since 2015, when Southeast Asian economies enjoyed an FDI increase of 11 per cent (in 2018).
Then the data released by the Department for Promotion of Industry and Internal Trade last year revealed FDI in India declined in 2018-19, for the first time in six years.
No, India is not attractive by itself to foreigners.
There are many reasons for this -- all equally important.
It is not just land availability or stringent labour laws.
It is red tape, extortion, retrospective amendments, capricious changes in rules, tax terrorism, poor labour productivity, maddening delays at the ports, sovereign risk, and so on.
India is unattractive to even locals: Well, all this discussion about FDI is a joke because it is well known that even Indian businessmen who have a choice don't want to invest much in India.
Domestic investment has been sluggish for the past six years, as reflected in the capital goods sector.
This is because domestic demand has been weak, there is overcapacity, and public investment is low.
Hence, there is no incentive for domestic businesses to invest more.
India is, in any case, suffering from drought in private investment.
All three points, especially the last two, are well known.
So where did the belief that FDI will shift from China as well as the actions of BJP-ruled states spring from?
This appears to be a strategy of politicians to keep the media busy, chasing irrelevant news to ward off pressure and questions about the government's plans to deal with COVID.
It started with the prime minister telling chief ministers about the shift of FDI, which is supposedly an opportunity.
There was no basis for this. As if on cue, BJP-ruled states then jumped in and started making similar noises.
There is a delicious irony here we shouldn't miss.
The prime minister was quite happy to take credit for the FDI numbers in 2014-2015.
Then, when the numbers sagged, FDI dropped off the list of achievements.
Now, it is the states that are encouraged to attract FDI that is supposedly fleeing China even as various Union ministries will strew with thorns this path of attracting more FDI.
---
Debashis Basu is the editor of www.moneylife.in