'The Modi government is about privatising profits and nationalising losses.'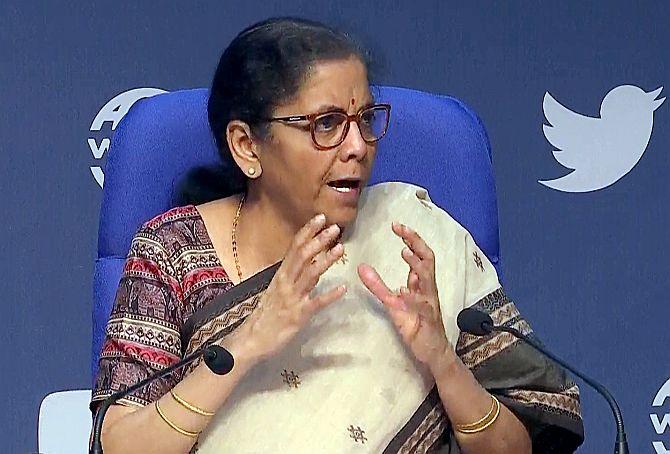 No sooner than Finance Minister Nirmala Sitharaman came good on Prime Minister Narendra Damodardas Modi's commitment and announced in five tranches a Rs 20 lakh crore economic relief package to pull India out of the economic morass caused by the coronavirus pandemic, a war of words has broken out over who exactly the package is meant to benefit and what is the actual new expenditure being incurred by the Government of India.
One of the recurring complaints against the ambitious package has been that it does nothing to mitigate the hardships faced by millions of migrant labourers who have been walking back, often in dire danger to their lives, thousands of kilometres to get home.
The ones who reach home stare at a bleak future with no jobs and no income, and many have asked the government to extend cash advances to the suffering.
The economic package, it was expected, would address this demand, but nothing of the sort has happened.
Instead, many long-pending economic reforms have been announced, labour laws have been amended by many states to weaken worker welfare, and earlier announcements have been bundled into the latest relief measures.
Among the many critical voices raised against these measures is that of Sitaram Yechury, general secretary of the Communist Party of India-Marxist party.
"The fact that workers continue to walk back to their homes thousands of kilometres away, bearing all the hardships, is a vote of no-confidence in what this government says," Yechury tells Syed Firdaus Ashraf/Rediff.com.
What do you think of the measures announced by Finance Minister Nirmala Sitharaman under the Rs 20 lakh crore relief package?
In the Rs 20 lakh crore package what we have seen is that Rs 7.5 lakh crore or more was already announced by the Reserve Bank of India and the finance ministry earlier.
Many others have been announced in the Budget. Many more are contained in special programmes like Digital India etc.
This is a repackaging of earlier packages.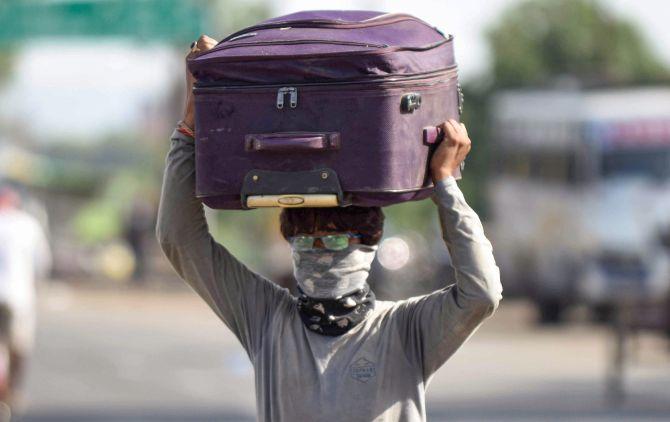 It looks like this government clearly doesn't believe in giving out doles and handouts.
The question is not about doles and handouts, but are you recognising the seriousness of the situation in the country today?
Lockdown is not a cure. It provides time to prepare.
We have to battle and defeat this pandemic and for that we have to spend money. Equip our health workers and do large scale COVID-19 testing.
Only after that, scientifically, we will be able to stop community transmission and contain the virus.
The other aspect is that of the plight of people.
Crores of migrant workers are walking in herds for 50 days to reach their homes because of this unplanned lockdown for which they were given only a four-hour notice.
After 45 days of lockdown you started the trains and told workers to pay for their tickets.
Many have lost their lives already. They lost their livelihood and were starving, but we did not help them.
In every country, the financial stimulus package is to ease people's hardship so that the economy is not destroyed.
In the United States of America, President Donald Trump is sending cheques to every single individual and in a family where both husband and wife are working both are getting cheques separately.
They are getting an amount directly in their bank accounts so that they are able to survive.
We have been telling Prime Minister Modi that he must give Rs 7,500 per month per family for the next three months -- a total of Rs 22,500 -- to people who are outside the income tax bracket.
This is necessary because unemployment has grown hugely -- as much as 14 crores since the lockdown began. This is the statement from the Centre for Monitoring Indian Economy.
We had other demands like, there is 77 million tonnes of food grains in central godowns. Distribute that for free to every needy individual, 10 kg every month for the next six months, so that people do not die of hunger.
Look at the way people crowd outside relief camps or gurdwaras or any other place where relief camps are being run.
You will see people rushing for food in crowds and lining up from the afternoon for dinner being distributed.
Therefore, the government is neither meeting the pandemic requirements nor the people's requirements.
Rajiv Bajaj, managing director, Bajaj Auto, said a Rs 20 lakh crore package sounded good, but no one he knew said 'wow'. So, who is benefitting from this package?
I don't know who is benefitting. But the point is very clear -- Prime Minister Modi said we must use the COVID-19 pandemic as an opportunity.
The NITI Aayog CEO says it is a now or never opportunity to push economic reforms.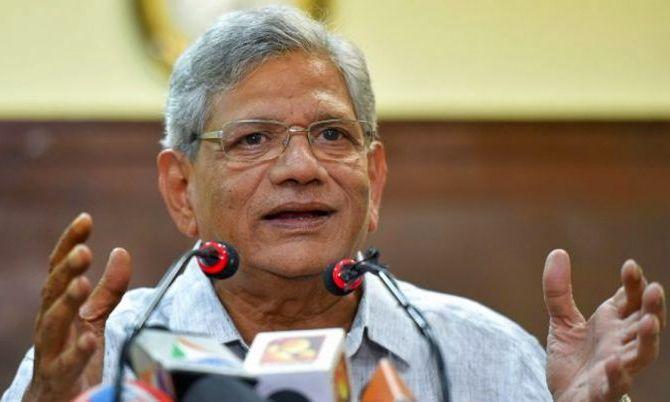 Economic reforms can be pushed only when people survive.
What will these reforms achieve? Rajiv Bajaj is right. Look at the MSME package they have announced of Rs 3 lakh crore. Now this package is not of money transfer, but package of loans for MSME revival.
On the other hand, the central government and public sector undertakings owe the MSMEs more than Rs 5 lakh crore and this is according to Union Minister Nitin Gadkari.
So, what is this package to the MSME sector because they will still bail out the Government of India by Rs 2 lakh crores.
The government told the Supreme Court that transportation is being provided to labourers. However, workers are willing to walk rather than wait. Why is that so?
Migrant workers don't believe in PM Modi's assurances.
On March 31, his government told the Supreme Court that there is not a single migrant worker on the road and that they are all in camps and being fed thrice a day.
But, from March 31 till date, you are seeing long march of workers relentlessly walking.
This is absolute inhuman cruelty as the government was untrue in the Supreme Court. Tragically, the apex court believed the Modi government.
PM Modi can bring back Indians stranded abroad free of charge on chartered Air India flights which is good, and I am not objecting to that, but he cannot give migrant workers free railway tickets to reach their homes.
The fact that workers continue to walk back to their homes thousands of kilometres away, bearing all the hardships, is a vote of no-confidence in what this government says and its intentions towards our poor and vulnerable sections.
Now the situation the world over has come to the point of privatising profit and sharing losses. Are we seeing lemon socialism (external link) across the world now?
This is cronyism.
They are using the pandemic to push their reforms.
They are virtually abolishing all labour laws.
They are increasing working hours from 8 hours to 12 hours a day.
They are attacking civil liberties and anybody speaking against this government is being charged under the laws of sedition or Unlawful Activities (Prevention) Act.
All peaceful protesters against the Citizenship (Amendment) Act and National Population Register are being targeted and arrested.
The government is sharpening its communal polarisation.
They are creating a very motivated campaign against the minority community which has now evoked a lot of angry reaction in not only Islamic countries across the world but also many democratic countries of the world.
They are proceeding with their agenda.
They have paralysed the country, Opposition political parties and people through the lockdown and they are proceeding with their agenda -- whether economic reforms of favouring the rich and impoverishing the poor, or sharpening communal polarisation by attacking the democratic rights and civil liberties of people and making India a dictatorial, authoritarian State.
The concept of a free market has been thrown out of the window in many countries. Markets which used to decide demand till January 2020 have disappeared suddenly and it looks like governments across the world are trying to save capitalism.
Everywhere the role of the government has come centre-stage to save capitalism.
Even countries like Spain, which is a capitalist country, has nationalised all its private health facilities; Nationalised!
Most of the other countries are asking private health providers to give a portion of their space for public health.
In India even now we don't have that. Doctors and health workers are succumbing to this virus as they don't have PPE suits. Absolutely, no humanitarian help.
So is socialism the way forward as in every country unemployment numbers are shooting up in a big way and no one seems to care?
Absolutely. Look at the countries which have successfully handled the COVID-19 pandemic, China, then Vietnam which has a huge border with China.
Vietnam has not seen a single death due to COVID-19.
Cuba, North Korea and then Singapore, South Korea, Taiwan too, where the public health system is good.
Wherever the Left and Marxism are strong, COVID-19 has not ravaged devastation.
In these countries, you see a strong public health system which has a universal reach and therefore you succeeded in fighting the pandemic.
Why just abroad, look closer home, the biggest example for not just India, but the developed world is Kerala (where the CPI-M-led Left Democratic Front is in power).
The public health system is robust. The Kerala model is recognised across the world.
From The New York Times to 35 major newspapers, all have praised the Kerala model.
If Kerala can do it, why can't the rest of India do it?
You mentioned China, but there are many who say it is a China virus and not coronavirus. These people hold China responsible for the COVID-19 pandemic.
Just because the first case came out in China you cannot call it a China virus.
The first case that was reported in India was in Kerala, so can you call this as Kerala virus in India? No.
People believe that coronavirus came out of a laboratory in Wuhan.
China says it has emerged from a Pentagon laboratory. So, what is the point in trading charges against each other? We must concentrate on defeating COVID-19. The effort must be to find a vaccine earlier and not to find a scapegoat.
Even if you find a scapegoat, will you stop this pandemic?
The pandemic can only be stopped when the entire global community together works out a vaccine, which can protect humanity.
The Keynesian economic model and America's New Deal saved capitalism in the 1930s. Do you think capitalism can be saved once again by the same methods?
It was saved by massive public investments. US President (Franlin Delano) Roosevelt's New Deal was that every superhighway would be built by State money.
The entire infrastructure that was created -- be it in the USA, the People's Republic of China or Japan or Germany -- was built by State investment.
Here in India, PM Modi wants to give it to private companies so that they can make a profit.
Today, we are saying farmers are suffering so give them a one-time loan waiver, but this government is not doing it.
This government can write off loans even during the lockdown of Rs 68,600 crore of their cronies who had taken money from banks and many of whom left the country.
What is this government all about?
The Modi government is about privatising profits and nationalising losses.