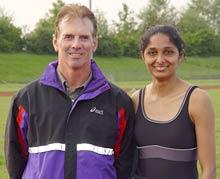 In clearing 1.88 metres at the Busan Asian Games Bobby Aloysious won the women's high jump silver medal at the continental event. That was in October 2002. A few months before that triumph, at the Commonwealth Games in Manchester, she narrowly missed out on a bronze medal.
By winning the Asiad silver, the 27-year-old Kerala-born Tamil Nadu-based lass, who has an M A in Sociology, proved that she has the dream and desire to improve. This year she has a heavy calendar, with Asian meets, the World championships and Afro-Asian Games coming up, ahead of the biggest challenge of them all, the Olympics in Athens, next year.
Currently, training in England under coach Denis Doyle, she has already participated in a few events, and won two and finished second in another. But the Indian national champion is far from her best performance of 1.90 metres. To earn a berth in the World and Olympic meets, she has to go beyond that, may be 1.92 metres or even 1.95.
Our correspondent Balbir Singh caught up with the ace athlete in London to find out more about her preparations and future plans. Excerpts:
Also read: 'Bobby is world-class', says coach Denis Doyle
Why did you decided to train in England, a country which has hardly any high jumpers?I am very keen to pursue a degree in Sports Science. The North-East Wales Institute of Higher Education [near Shrewsbury in England where she is currently based] has offered me that chance. That was the primary reason for going to England. The course starts in September and if all goes well I will be here for four more years.
You trained in Russia and Finland too...
My training in Finland was not very successful. After that I trained in Russia for one-and-half year with Ewgeny Zagarulka, who is an expert in high jumping. He is still training a number of internationally-renowned athletes. In Athens he will have at least one Olympic medallist. Of course, he is the coach of the existing Olympic champion Yelena Yelesina. It's over 35 years that he's been training high jumpers. In Athens he hopes to have a gold from either Yelena or Anna Chechernova.
Yet you decided to be coached by a different person. Was the Russian coach not very good?
Of course, he is good. But had it not been for the study in sports science, I wouldn't have selected Denis Doyle at all.
How did you eventually settle upon Doyle?
I found him via the Internet. Joe Faust [former US coach and Olympian] suggested that I contact Doyle, who is a former athlete and a UK national high jumping coach. I had established good relations with Mr Faust over a period of time. He even created a web site for me in his highjumpworld.com. Interestingly, Denis had watched me jump at Manchester. I have been with him since February and it's a pity that I couldn't join him earlier.
How is your training going on?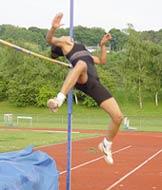 The training schedule is in different places and that makes it very interesting. Training with different groups, different climate is quite challenging. Two days in a private gymnasium in the city [Shropshire]. It is highly equipped and very expensive. Two days I used to train in Telfrod athletics Synthetic stadium, 25 kms from where I stay. The coach takes me in his car. Some days I visit his house where he has a high jump pit and a small synthetic surface. Honestly, the infrastructure in India is much better. Another reason for my coming here is the reduced the quantity of work. It has increased now but I am not worried about it. I am confident I will be able to give a better performance with better technique. This year I am concentrating on improving my technique which is not very good.
How would you rate training under Doyle?
I was scheduled to start training with Denis from last December. Due lack of money I could only join in February. There were a lot of obstacles. Eventually, the Amateur Athletics Federation of India secretary, Lalit Bhanot, and others interacted with the Sports Authority of India and had the money released. I am very happy with the training; there is no doubt about it. Doyle is very talented and has been able to correct my technical deficiencies. He is good at motivating and I feel that I have the capacity to improve.
You are scheduled to return to India on July 9 and participate in a few events. Will it cause any problems to your training schedule?
Not at all. The competition will be good for me. In India I will be taking part in the Federation Cup and another meets too. I will also take part in the Asian championships in September and the Afro-Asian Games in October. I must jump 1.92 metres this year. That is the 'B' standard for the World championships in Paris and the Olympics too. The 'A' standard is 1.95 metres. If I can jump 1.95 metres, I will be in the Olympic final. No doubt, I will be extremely happy with that achievement.
What is the cost of your training in England?
I had proposed Rs 14 lakhs [1.4 million] for a one-year training and other expenses, like the air-fare and participating fees etc. But the Sports Authority of India has given me only Rs 7.25 lakhs [725,000] till now. I hope they will give me the balance to continue training here. I plan to continue with Doyle till the Olympics, at least.
Did you have to put money from your own pocket too?
The released money has been enough so far. But if SAI makes further delay in releasing the money I will be in trouble. In fact, I could not ask for a visa extension in July due to insufficient funds. I had to go to the government offices for three months and that badly affected my off-season training. In the past, I spent a lot of money from my pocket too. Moscow is one of the most expensive European cities and I got only Rs 4 lakhs [400,000] from SAI. There were some sponsors like Asianet group; Dr Ifthikar, an Indian living in Moscow, came to my help. I must have used more than Rs 5 lakhs [500,000] from my savings.
Tell us a little about your sports science degree?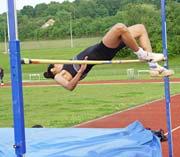 I think I may be the first athlete in India trying to get involved in scientific studies. I may have to study for six years, three for B.Sc (hons) and then two for post-graduate. I am concerned about the B.Sc degree, for which I may have to spend four years as I am concentrating on Olympic preparations. The three-four year course will cost me Rs 15 lakhs [1.5 million] overall.
There is a paucity of good scientific coaches in India. If Usha failed to win a medal at the Olympics and Shiny Abraham failed to enter the final, it is because of their coaches. Due to unscientific training they spoiled their careers. I think acquiring a scientific study will help me overcome the limitations of coaching. I am very hopeful.
BOBBY ALOYSIOUS PERFORMANCE CHART:
Silver medal at the Asian Games in Busan, South Korea, 2002 (1.88 metres)
Silver at the Asian championships, Colombo, Sri Lanka, 2002 (1.84 metres)
4th in Commonwealth Games, Manchester, England, 2002 (1.87 metres)
Gold in Asian championships, Jakarta, Indonesia, 2000 (1.83 metres)
Gold in International Championship, Penang, Malaysia, 2000 (1.86 metres)
Silver in Bangkok International, Thailand, 2000 (1.78 metres)
Silver in Kuortane Indoor Invitation meet, Finland, 1999, (1.80 metres)
Gold in South Asian Athletics championship, Colombo, Sri Lanka, 1998 (1.86 metres)
Gold in SAF Games Madras, India, 1995 (1.80 metres)
Gold in SAF Games, Dhaka, Bangladesh, 1993 (1.73 metres)
Some high jump facts:
World record:
Stefka Kostadinova 2.09 metres in 1987.
Olympic record:
Kostadinova 2.05 metres in 1996.
Asian record:
Svetlana Zalevskaya 1.97 metres.
Sydney Olympics gold:
Yelena Yelesina 2.01 metres.
Bobby's best:
1.90 metres in 2000.
Bobby Aloysious's website: http://www.bobbyaloysius.com