Home > Sports > Interviews


The Rediff Interview/Denis Doyle

'Bobby is world-class'

July 03, 2003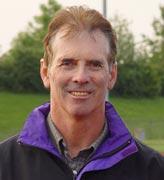 Coach Denis Doyle, who is training Bobby Aloysious in England, feels the ace Indian high jumper has the potential to win a medal at the Olympics. He says Bobby is making excellent progress and is in the process of undergoing major technical changes to her style.
Exerpts:
When did you first see Bobby Aloysious; what did you think about her potential?
I first saw Bobby at the Manchester Commonwealth Games last year. She had many technical faults but a tremendous competitive ability to cope in terrible weather conditions. I also noticed an excellent spring action and, physically, an excellent body profile for quality high jumping.
How is the training going on?
I am very pleased so far even though we lost three months of training at the end of 2002 and into 2003 due to the time she took for the money to be released. Through Bobby's hard work and commitment she has made up most of the training time that she lost. But for her to have to go through the stress of such a long process again in obtaining funds for 2003-2004 would hinder her Olympic preparation.
Fortunately this year she has managed to make up much of the time lost without getting injured. I hope that this summer the SAI will realize the importance of expediting the release of her finance support to reduce the pressure on her. After nearly five months, Bobby has made excellent progress and we have developed an excellent rapport. Today we calculate that she is between 15 and 20 per cent stronger than the same time last year. Technically, we have spent a lot of time breaking down her old patterns of movement, and in training she is making good progress. She will need to compete with distinction at the Olympics. The technical changes Bobby is making are major, and the unknown, of course, is always how long it takes for these changes to stabilize in the competition arena. She needs as much time possible to stabilise the changes and has therefore chosen the inaugural Afro-Asian Games in India as her competitive peak for 2003 with the Asian and World championships as the secondary targets.
What do you think is her potential?
World-class! Physically, she has a similar build to Kasja Bergquist of Sweden, who jumps 2.05 metres.
How much do you think she can jump?
Over the years I have learned to set a limit for an athlete as this can limit the expectations of their own abilities. At this stage I will say, certainly above 1.95 metres. That will be the required height for an Olympic final.
Is she a medal prospect at the Olympics?
That is the million-dollar question, isn't it? I view it this way: Bobby jumped 1.90 metres in 2002 with what I consider to be an extremely bad technique. Following Manchester, there are two years in which to develop a quality technique and increase her explosive ability before the Olympics takes place. For any athlete that is a huge amount of time in which to bring about significant improvement. I expect her to jump 1.95 metres that will be required to reach the Olympic final. Once in the final anything could happen. The excitement of the Games, competing on the emotion of the final day and the motivation she will have, knowing the eyes of millions of Indians will be watching and wishing her success; who knows?
Remember that in the 1996 Atlanta Olympics, the athlete from Greece raised her personal best three times to jump 2.03 metres to take the bronze medal and she was a similar build and height as Bobby.
Also read: I must jump 1.92 metres this year: Bobby Aloysious
More Interviews