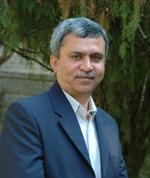 Criminalisation in politics is something that is extremely common today. Although there is a great deal of awareness among the people, political parties continue to field candidates with criminal records and corruption charges.
Professor Trilochan Sastry, a professor of quantitative methods and information systems at the Indian Institute of Management, Bangalore has also been the chairman of the Association for Democratic Reforms, which has brought in election reforms including transparency in candidates and political party information for the first time since the Independence.
In this interview with rediff.com's Vicky Nanjappa, Professor Sastry says that every political party appears to be taking a shortcut and hence there is so much criminlisation in politics.
Is the problem of criminalisation in politics still existent?
It is a very big problem. Criminalisation in politics still exists, unfortunately. Parties are not willing to go beyond winning, and hence they are taking shortcuts. They are fielding candidates with such backgrounds only because they feel that these candidates would win. This is not a right precedent.
The mining issue in Karnataka is a major one. The Congress has given a ticket to Anil Lad whose name is in the Lokayukta's 2011 illegal mining report.
It is disappointing. People who have been named in the report and who have criminal backgrounds and also accused of major frauds have been given tickets. I have this strong belief that such candidates would misuse their positions.
Is there a solution to end this problem and have only clean candidates?
Candidates will continue to seek tickets, but a lot depends on the parties which select candidates. They ought to be more careful while conducting the seat selection. As I pointed out earlier, winning seems to be their only concern, and hence they will adapt a shortcut. The parties should be held responsible for this.
What about the role of the voter?
We expect that the voter shall not vote for such persons or candidates. There is a great deal of awareness today, but that needs to improve and I am sure it would over a period of time.
The media, non-governmental organisations, the Election Commission of India and the Supreme Court are doing their bit to create this awareness of eradicating criminalisation in politics.
What will the voter do if he is given such candidates? He has a favourite party, but the candidate is not clean. The voter is in a dilemma. As I said, parties should take the responsibility and stop fielding such candidates.
You have done reports in every state. How do you rate Karnataka while comparing the candidate selection procedure?
It is an average state in terms of this issue. Kerala and Tripura have lesser candidates of this nature and this is largely to do with the high literacy level in those states. I feel Karnataka must focus on a literacy programme as it is co-related to the election process.
Image courtesy: IIM Bangalore