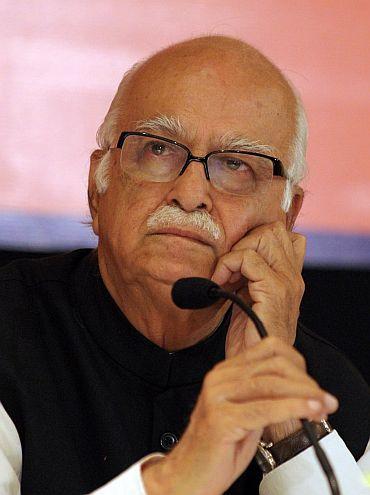 In a surprise development, former Madhya Pradesh chief minister and sitting Lok Sabha member of Parliament from Bhopal, Kailash Joshi said on Wednesday that he has asked veteran BJP leader L K Advani to contest Lok Sabha polls from Bhopal.
"I spoke to Advani about three days ago and made an offer to him to contest Lok Sabha polls from Bhopal," Joshi, who recently announced that he would not contest the general elections from Bhopal, told PTI. When asked about Advani's response, Joshi said he told him, "Will see".
It has been speculated and rumoured in the state capital that Advani may contest Lok Sabha polls from Bhopal. These rumours got more credibility after the BJP's state election committee, which met to recommend the names of candidates from 29 Lok Sabha seats in the state, decided to leave Bhopal seat for the BJP's Central Election Committee to decide.
Joshi, who is also member of the BJP's committee said he has also informed committee members about his offer to Advani.
Meanwhile, the State Election Committee recommended names from 17 seats including that of Leader of Opposition in Lok Sabha from Vidisha and former IAS official Bhagirath Prasad from Bhind.
Prasad became a BJP member on March 9, exactly a day after the Congress fielded him from Bhind, causing a major setback to it (Congress) just before Lok Sabha polls.