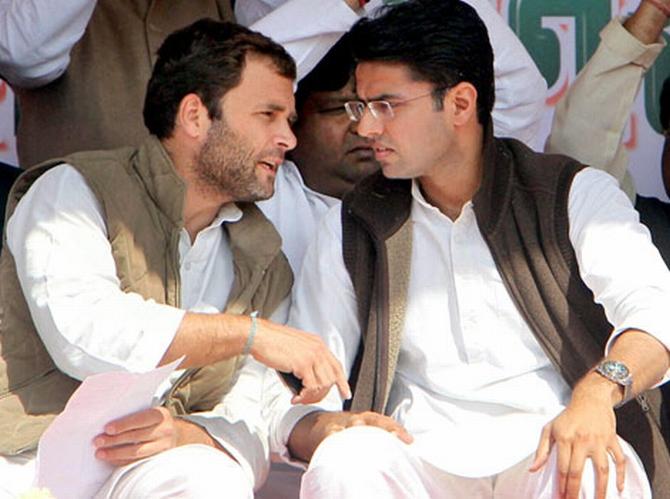 Fearing defeat in the upcoming high-pressure polls, state Congress chiefs are reluctant to fight from their constituencies, eye a shift. Anita Katyal reports
As the prospect of a crushing defeat in next month's Lok Sabha polls looms large, a number of Congress leaders and state unit chiefs want to change their constituencies while still others want to sit out this election.
This has placed the Congress in a predicament as they are faced with the unhappy situation when its "generals" want to run away from the battlefield, sources tell rediff.com.
It is no secret in the Congress circles that Union Information and Broadcasting Minister Manish Tewari is not keen to contest from his present constituency Ludhiana and is eyeing Chandigarh. And he is not the only one.
State Congress chiefs from Rajasthan, Haryana and Punjab -- Sachin Pilot, Ashok and Partap Singh Bajwa -- have told the leadership that they would do not wish to be re-nominated from their earlier constituencies. Bajwa, in fact, does not wish to contest this election.
Of the three, Bajwa is likely to have his way. Reliable Congress sources told rediff.com that the Punjab Congress president is likely to be benched so that he is free to campaign in the state.
The Congress is facing a shortage of sorts of leaders in Punjab. Its former chief minister and PCC chief Amarinder Singh, who can be an asset to the party, is expected to stay away from the campaign given his antipathy towards Bajwa. A final call will be taken at the meeting of the party's central election committee on Wednesday.
Tanwar, the sitting MP from Sirsa, is eying the reserved Ambala seat, which was won by former Union minister Kumari Selja in the 2009 election. The seat has fallen vacant, as Selja has been nominated to the Rajya Sabha.
Tanwar is jittery about retaining Sirsa and has, therefore, requested that he should be shifted. The matter came up for discussion at the last meeting of the party's central election committee but senior leaders were not convinced with his argument, sources in the party tell rediff.com.
Congress Vice President Rahul Gandhi wanted to know if Selja had been consulted in this regard, as she is the sitting MP from Ambala. The decision on both the Sirsa and Ambala seats was deferred when they realised that Selja had not been taken into confidence. It now appears that Tanwar may not have his way and will have no choice but contest from Sirsa.
"What kind of a message will we be sending to the people if the party's state presidents are seen to be running away from their constituencies," a senior Congress functionary told rediff.com.
While Tanwar is feeling the heat in Haryana because of the prevailing public sentiment against the Bhupinder Singh Hooda government (controversial land deals in the name of Haryana's development), his counterpart in Rajasthan -- Sachin Pilot -- is also not confident about winning back his Ajmer seat. He is learnt to have requested that he should be moved to the Tonk constituency.
However, it is difficult to imagine how a change will help as the overall scenario in Rajasthan appears bleak for the Congress. The party suffered a humiliating defeat in last year's assembly election when it was reduced to a mere 21 seats. Popular leaders like former chief minister Ashok Gehlot, All India Congress Committee General Secretary C P Joshi and Pilot were unable to secure the victory of legislators in their respective districts.
Pilot faces an uphill task in Rajasthan as he was given charge of the party affairs this January shortly after Congress's defeat when the morale of the cadres had plummeted. He faces the onerous task of galvanising the cadres and streamlining the state unit; he also has to prove himself by retaining his constituency.
He is handicapped, as he has never worked in the state organisation while major caste groups are still antagonistic towards the Congress. Although the grand old party is hoping to pocket the Jat votes after the United Progressive Alliance government announced a reservation for the community, its move may be too late to win them over. With the Meenas, a tribe from Rajashthan, also unhappy with the Congress, the party is in talks with Scheduled Tribe leader Kirori Lal Meena.
The situation is no different for the Congress in neighbouring Punjab where Bajwa is shy of contesting from Gurdaspur again although he won the seat in 2009 by defeating three-time BJP MP Vinod Khanna. He is obviously not sure of retaining his seat.
While Bajwa publicly maintains that he willing to contest from his old constituency, he privately states that he does not want to get bogged down with his own election and would instead like to be free to campaign in the state.

Image: Congress Vice President Rahul Gandhi with Rajasthan Congress chief Sachin Pilot