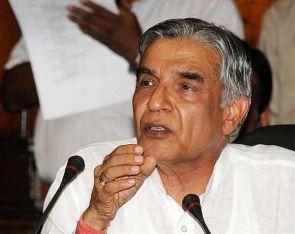 Faced with a dilemma over handing tickets to leaders facing allegations of corruption, Congress on Wednesday gave indications that while former Railway Minister Pawan Kumar Bansal could be re-nominated from Chandigarh, Pune MP Suresh Kalmadi may not be fielded in the upcoming polls.
"It is unfair to call Bansal tainted. No charge sheet has been framed against him. BJP has been leading a diatribe against him, but the fact is that there are no charges against Bansal," party spokesperson Randip Surjewala told reporters.
The Congress spokesperson gave clear indications that the former Railway minister will not be denied a ticket.
Party sources said that Congress's Central Election Committee has already cleared Bansal's name, but the candidature for Chandigarh was not announced in the first list to avoid a controversy when the party was making a big announcement of candidates for 194 seats.
The second list or a subsequent one will have Bansal's name, sources added.
A Special CBI court on Tuesday framed charges of criminal conspiracy and corruption against Bansal's nephew Vijay Singla and nine others who were arrested in the Rs 10-crore cash-for-post railway bribery case when the Congress leader was holding the railway portfolio.
With a row erupting over the case, Bansal resigned from the Union Cabinet.
Surjewala said that Bansal had resigned on moral grounds while indicating that Congress believes that no "convicted" leader, or those found involved in "heinous" crimes, should be fielded in the polls.
"Bansal has not been charge-sheeted. Nor is there any such allegation against him. As far as giving or not giving ticket is concerned, it is a decision taken by the Central Election Committee chaired by party President Sonia Gandhi.
"When that decision, which will be taken very soon, is announced, you can ask these questions," he said.
Surjewala, however, appeared to suggest that there was no similarity between the cases of Bansal and Suresh Kalmadi or former Maharashtra Chief Minister Ashok Chavan, who are facing allegations in connection with the Commonwealth Games and the Adarsh housing scams, respectively.
The duo are said to be campaigning to obtain Lok Sabha poll tickets for their wives.
"Till now, neither Kalmadi nor any family member of his has been either given or denied the ticket for Pune. So, the question is hypothetical," he said.
A senior party leader, who spoke on condition of anonymity, said that no decision has been taken yet on giving a ticket to either Kalmadi or his wife.
The leader also refused to see a similarity between the cases of Bansal and Chavan.
"In every case, facts are always put (before CEC)," he said without elaborating further.
At a time when Rahul Gandhi is seeking to make corruption a big issue in the upcoming Lok Sabha polls, there is also the view within the party that some basic criteria should be followed to ensure that leaders do not lose out on tickets due to political vendetta.
Asked as to what the definition of "tainted" was for the Congress or if whether there was any criteria to decide on the fate of leaders caught in controversies, Surjewala reminded of how Rahul had ensured that the government did not go ahead with the controversial ordinance that sought to overturn the Supreme Court judgement ordering that lawmakers would be disqualified the day they were convicted by any court in a criminal case.
Maintaining that it has been the tradition and thinking within Congress that is the responsibility of political parties and leaders to keep the stream of politics clear from the entry of people convicted or accused of heinous crimes.
At the same time, he said, "It is not appropriate that somebody is disqualified (to contest polls) because some allegations were made... the SC order comprehensively carries this viewpoint of the Congress."
Surjewala targeted BJP's prime ministerial candidate Narendra Modi for retaining "tainted" ministers in the Gujarat Cabinet and drew attention to the return of former Karnataka chief ninister BS Yeddyurappa, who faced corruption charges, to the opposition party.
Information and Broadcasting Minister Manish Tewari, who is reportedly eyeing the Chandigarh seat, has said that the party should not get into legalities and instead "not give tickets to those who are facing even allegations of corruption".
Congress's dilemma over the issue stems from the fact that the party is trying hard to change its image while portraying Rahul as an anti-corruption crusader.
But electoral compulsions apart, there is an also a view that leaders should not be denied a chance to contest only because of some perceptions.
The party had earlier downplayed the issue of Gandhi sharing the dais with Ashok Chavan, saying that a charge sheet or an FIR against somebody did not amount to a conviction.
Image: Former Railway Minister Pawan Kumar Bansal