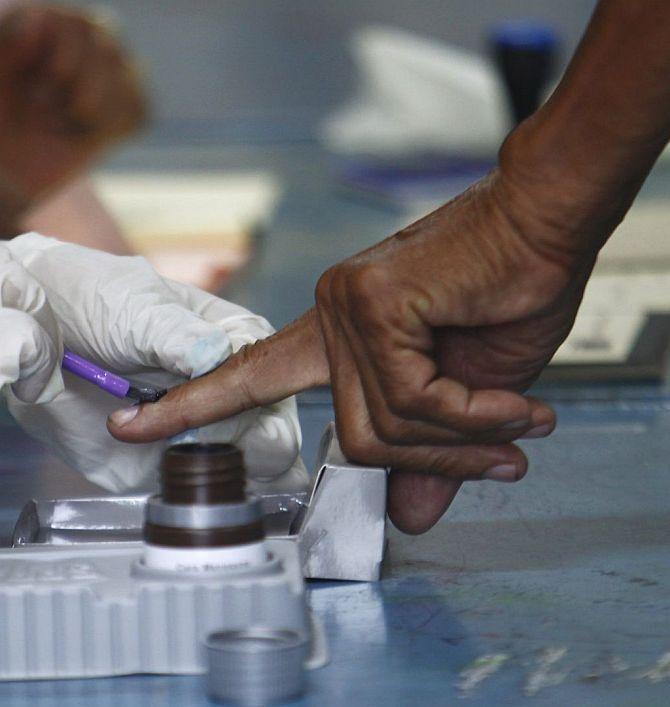 The Election Commission has decided to grant two more hours to people to cast their votes in the upcoming Lok Sabha elections.
Highly placed sources told PTI that the EC has finalised grant of two more hours to enable the people to exercise their franchise in non-Naxal-affected areas, including the hill areas.
While in the non-Naxal affected areas, polling would be held between 7 am and 6 pm that in Naxal-hit areas would be between 7 am and 4 pm, the sources said. In hilly areas, the poll timings would be from 7 am to 6 pm.
The decision, the sources said, would be notified in a day after the EC officials return from its poll-preparedness exercise in Assam, which goes to polls in the first phase starting April 7.
The increase in poll time comes in view of a quantum jump in the number of voters across the country and the trend of bigger turnout in recent elections, sometimes leading to long queues at polling stations till late in the evening.
The full commission, comprising Chief Election Commissioner V S Sampath and Election Commissioners H S Brahma and Nasim Zaidi, have already discussed the issue and will give final nod before the issue of notification in this regard.
Polling duration currently is of nine hours, which has now sought to be increased to 11 hours.
The EC feels since the elections will be held in summer, more voters will turn up to exercise their franchise towards the evening when the weather cools. That would likely lead to long queues at polling stations as voting draws to a close.
A total of 81.4 crore voters are expected to exercise their franchise in the Lok Sabha elections which begin on April 7 and end on May 12.
Of these voters, a total of about 10 crore are those whose names have been newly added on electoral rolls. The last Lok Sabha polls had a total of 71.3 crore electors.

Image: The first phase of polling in the upcoming Lok Sabha polls begins on April 7