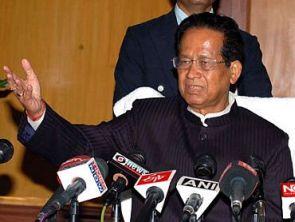 All 18 members of opposition All India United Democratic Front were expelled from the Assam assembly on Monday, the opening day of the monsoon session by Speaker Pranab Kumar Gogoi amidst noisy scenes.
During Question Hour, Sherman Ali Ahmed of AIUDF insisted on clarifications from the government on 'D' (doubtful) voters issue and asserted that they were being harassed in the name of checking their citizenship. The reply to his question was given by Minister Rockybul Hussain on behalf of Chief Minister Tarun Gogoi, who is in charge of the home ministry, but Ahmed insisted on asking more questions. When he did not take his seat even after being repeatedly asked to do so, the Speaker expelled him for the day.
Ahmed, however, refused to go out and all the other members of his party also joined him in claiming that the human rights of the affected 'D' voters were being violated by not allowing the MLA to discuss their issue in the assembly. As the AIUDF MLAs kept shouting in protest and nothing could be heard in the din, Gogoi expelled all of them for the day. When they did not leave and continued to shout, the Speaker adjourned the House for 15 minutes.
As soon as the house reassembled, the AIUDF MLAs, who continued to remain inside, raised a din again, demanding that their issue be discussed. Some of them even squatted in the well of the House till the marshall and the watch and ward staff was called in and they were peacefully guided out.
Amidst the noisy scenes, Gogoi said if there was violation of human rights, the aggrieved could go to the human rights commission.
Hussain in his reply said updating the national register of citizens will solve the 'D' voters problem and illegal migration. The chief minister, taking along all the political parties and various civil organisations, had undertaken the exercise to update the NRC and solve the problem, he said.
"When the problem is about to be solved, some political parties create trouble to hijack the issue and keep it alive," he told reporters outside the House. By repealing the Illegal Migrants (Determination by Tribunals) Act, both Hindu Bengali and minority community people have been affected. They have lost the opportunity to clarify their status, he asserted.
During the Asom Gana Parishad regime between 1985-90 there was an order to the Indo-Bangladesh border police posts that cases should be filed against people suspected to be illegal migrants or of doubtful citizenship. "But this order was withdrawn when we (Congress) came to power. Since then there have been no 'D' category people," he said.
'D' was marked against these people's names in the voters list and they are not allowed to vote during elections, which the AIUDF claimed deprived them from exercising their franchise and violated their human rights.

Image: Assam Chief Minister Tarun Gogoi