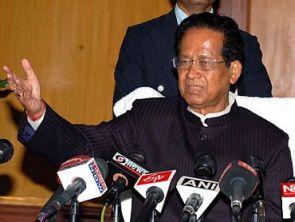 After scaling down its original demand for 'sovereignty', the militant United Liberation Front of Asom wants Assam to be declared a 'tribal state' by granting the Scheduled Tribe status to at least six more ethnic communities.
One of the key demands of the ULFA faction, which is engaged in a dialogue with the government since August last year, is to declare Assam a tribal state by according Scheduled Tribe status to six ethnic communities -- Tai Ahom, Moran, Motok, Koch-Rajbongshis, Adivasi (tea garden workers) and Chutia.
Assam Chief Minister Tarun Gogoi has said that his government agreed with the ULFA over the issue.
"I understand the ULFA wants ST status for the six ethnic communities in Assam which have been demanding this status and it is in tune with the known stand of our government. The grant of ST status to these six communities will virtually convert Assam into a tribal state," Gogoi said.
The chief minister added that the dialogue between ULFA and the government was progressing in the right direction and hoped for an early solution to the problem.
Gogoi expressed ignorance about the ULFA's stand -- that the dialogue should yield concrete solutions before the next general election in 2014.
Meanwhile, the central government is actively considering granting ST status to Moran, Motok and Koch-Rajbongshi communities after the Assam government submitted the ethnographic reports on these three communities to the home ministry.
The home ministry, in turn, would forward it to the ministry of tribal affairs for further action with the Registrar General of India, according to a source.
The ULFA, which no longer sticks to its demand for sovereignty, is insisting on "constitutional protection of indigenous communities of the state".
At present, 12.4 per cent of Assam's 3.2 crore population are recorded as ST.
As per Article 342 of the Constitution, communities are notified as Scheduled Tribes if they have five basic characteristics -- primitive traits, geographical isolation, distinct culture, shyness of contact with community at large and economic backwardness.
Meanwhile, All India United Democratic Front, a political amalgamation of over 12 minority political groups in Assam, has registered a strong protest against the reported efforts to covert Assam into a tribal state.
The group has claimed that tribal state status to Assam would lead to deprivation of political and other rights to over 50 per cent of the population.