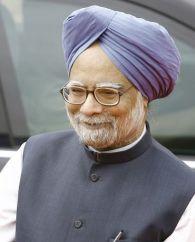 Prime Minister Manmohan Singh was elected to Rajya Sabha for the fifth consecutive term on Thursday as Congress won both the seats to the Upper House from Assam.
Singh got 49 first preference votes, while the second Congress candidate bagged 45 votes in the 126-member state assembly, its Principal Secretary and Returning Officer G P Das said.
All India United Democratic Front's Aminul Islam, who polled 18 votes, lost, he said.
AIUDF is a partner of the United Progressive Alliance at the Centre and its 18 MLAs gave their second preference vote to the prime minister.
The prime minister was the only contestant for the first preference vote seat as the other parties did not put up any candidate against him.
The votes of all 78 Congress members and its ally Bodoland Peoples Front's 12 MLAs were found to be valid, Das said.
Opposition Asom Gana Parishad and BJP, who have nine and five MLAs respectively, had earlier decided to abstain from voting.
The Congress now has five members out of seven in Assam to the Rajya Sabha. Polling was held from 9 am to 4 pm at the assembly and counting of votes began at 5 pm.
The election process has to be completed before June 3 as per the Election Commission's May 13 notification.
On his election, the Prime Minister's Office said in a statement that Dr Singh "is greatly honoured that the people of Assam, through their elected representatives in the state's legislative assembly, have given him an opportunity to serve them again".
"I have been representing Assam in the Rajya Sabha ever since 1991 and in this period it has been my constant endeavour to work for the state's development and prosperity to the best of my ability. I solemnly pledge today that I will continue these efforts in the future too," the PM also said in the statement.
With inputs from K Anurag in Guwahati