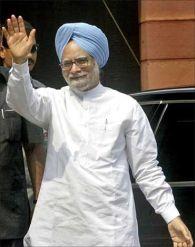 Faced with brewing dissidence by a section of party MLAs, the ruling Congress party in Assam have taken every precaution possible to ensure victory of both the party candidates, including Prime Minister Manmohan Singh ,on May 30 Rajya Sabha polls from the state
The Congress Legislature Party has issued a three-line whip to all the 79 party MLAs besides dividing them into two groups to vote for party candidate Dr Singh and Santiuse Kujur
respectively.
"We have issued a three-line whip to all our MLAs. One group has been instructed to vote for Dr Manmohan Singh while the other group has been asked to vote for Kujur. The party MLAs will have to show the ballot to appointed polling agents of respective candidates before casting their votes. Defiance of three-line whip will attract serious disciplinary action," said Nilamani Sen Deka, the state parliamentary affairs minister.

The CLP has dispatched the whip to party MLAs through personal courier to official quarter in Guwahati, through fax and to their residence at constituency through respective deputy commissioners.
The ruling Congress has 79 MLAs and its ally Bodoland People's Front has 12 MLAs. That makes the total strength of the ruling coalition of 91 MLAs. In the 126-member Assam assembly each of the Congress candidates will require 43 votes each to get elected into Rajya Sabha.


However, Asom Gana Parishad with nine MLAs and Bharatiya Janata Party with five MLAs will abstain from taking part in RS polls. As a result only 112 MLAs at the maximum will participate in the election. In that case Congress candidates will require lesser number of votes to win the polls.


The All India United Democratic Front with 18 MLAs has fielded its candidate Aminul Islam in the Rajya Sabah poll.


According to Deka total 49 MLAs including 42 Congress MLAs, four BPF MLAs, the lone Trinamool Congress MLA and two Independent MLAs will vote for Dr Singh. This group of 42 Congress MLAs includes mostly veteran MLAs including Chief Minister Tarun Gogoi.
This group will vote under the supervision of the parliamentary affairs minister, Deka. On the other hand total 45 MLAS including 37 Congress MLAs, eight BPF MLAs will vote for Santiuse Kujur. This group of 37 Congress MLAs includes those MLAs who have of late expressed their anguish over CM Tarun Gogoi's leadership. This group will vote under the supervision of parliamentary secretary Rana Goswami.
The CLP has appointed Forest Minister Rakibul Hussain and MLA Debabrata Saikia as polling agent for Dr Singh. On the other hand parliamentary secretary Bhupen Bora and MLA Bidyasing Engleng will be polling agents for Kujur.


The CLP is holding a training on Wednesday evening for its MLAs in view of Thursday's Rajya Sabha polls so as to make it a smooth affair.


Image: Prime Minister Manmohan Singh