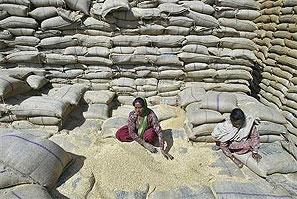 The Congress government in Assam hopes to implement the National Food Security Ordinance which has been passed by the Congress-led United Progressive Alliance government in the Centre, within six months, as desired by the Centre.
Chief Minister Tarun Gogoi has already discussed with concerned officials in the State about implementation of the ordinance after the Central government asked the states, especially those in the Congress-ruled States to implement the ordinance within six months.
Gogoi claimed that Assam was in an advantageous stage to put the ball rolling as far s the ordinance is concerned with six months period as stipulated by the Centre given the
availability of lists of beneficiaries under various state government welfare schemes such as Annapurna, Antodaya etc. "We have an edge to finalise the beneficiaries under ordinance as the state government has been running similar schemes for the poor in the state and the beneficiary list for those schemes are already there. These lists of beneficiaries have to be upgraded to prepare a beneficiaries' list under the food security ordinance," he said.
Gogoi informed that as per the Centre's directive 75 per cent of the rural population and 50 per cent of the urban areas population in the State would have to be covered to enjoy benefits under the Food Security Ordinance like Rice at Rs 3 per kg, wheat (atta) at Rs 2 per kg etc.
The pro-poor schemes of Gogoi government including Annapurna ,Antodaya ,Majoni, Mamoni, bi-cycles to girl students and laptop computer schemes for students passing with flying colours in Xth standard State Board Examination have been boon for the Congress party in the Asam where it has been in the seat of power since 2001 under the stewardship of Tarun Gogoi.