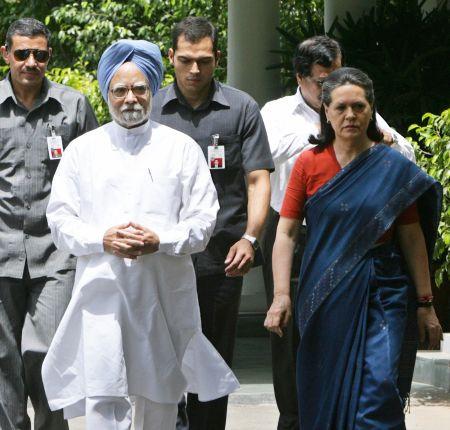 Inching towards withdrawal of the controversial ordinance on convicted lawmakers, Congress top brass including Prime Minister Manmohan Singh and party chief Sonia Gandhi on Wednesday grappled to work out a face saver in the wake of a huge political storm over Rahul Gandhi's public outburst against the measure.
All pros and cons were discussed and a decision was left to the Union Cabinet which is meeting in the evening, highly placed party sources said after the hour-long Congress Core Group meeting headed by Sonia Gandhi.
The sources said that the government is mulling whether to withdraw the ordinance -- which was sent to President Pranab Mukherjee after the Cabinet had cleared it -- or ask the President to exercise his pocket veto and sit over it.
Soon after the core group meeting, which was also attended by Home Minister Sushilkumar Shinde and Gandhi's political aide Ahmed Patel, the prime minister met President Pranab Mukherjee at the Rashtrapati Bhavan.
Mukherjee is said to have reservations over the ordinance to provide immunity to MPs and MLAs from immediate disqualification overriding a Supreme Court judgement on the issue.
The day of hectic activities in the Congress began on the issue with Rahul Gandhi calling on the Prime Minister in the morning and holding one to one interaction during which the Congress Vice President explained to Singh the context in which he denounced the Ordinance.
Though Singh said he does not get "upset easily", he had indicated his unease on Tuesday when he told reporters that he would try to find out the reason why Rahul made a public statement and "why it had to be done that way".
Meanwhile, a senior party leader speaking on the condition of anonymity said that it is not necessary that a decision is taken immediately after the Cabinet meeting on Wednesday as it could give an impression of the prime minister's authority being eroded.
The matter may also be deferred for a view by the UPA c coordination committee after the Cabinet makes up its mind, the leader said.
There is a also a view in the party that the "ordinance is now history" after Gandhi's carping criticism of it.
Image: Prime Minister Manmohan Singh and Congress chief Sonia Gandhi
Photograph: Adnan Abidi/Reuters