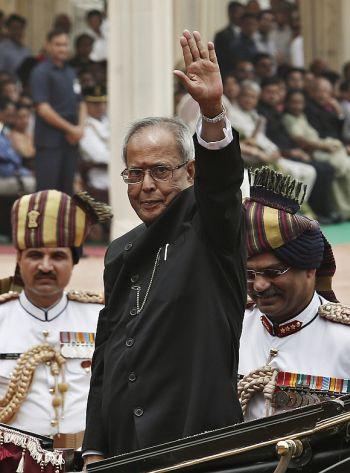 President Pranab Mukherjee on Wednesday embarked on a six-day state visit to Belgium and Turkey with education being the focus of his maiden trip to Europe after taking over as the Head of the State.
A high-level delegation, including ministers, senior officials and representatives of educational and academic institutions, is accompanying the President.
UGC Chairman Ved Prakash, Vice-Chancellor of Delhi University Dinesh Singh, Jawaharlal Nehru University VC Sudhir Kumar Sopory and Hyderabad University VC Ramakrishna Ramaswamy are part of the delegation visiting the two countries.
The President was on Wednesday given a ceremonial send-off at the Rashtrapati Bhavan by Vice-President Hamid Ansari, Prime Minister Manmohan Singh and other Cabinet ministers.
In the first leg of his visit, the President will go to Belgium at the invitation of the King Philippe. It would be the first visit by an Indian President to Belgium.
In Belgium, Mukherjee would inaugurate jointly with King Philippe the 'Europalia-India 2013-14', a cultural extravaganza showcasing India.
He will visit Turkey from October 5-7 at the invitation of the President of Turkey.
It would be the third visit by an Indian President to Turkey after the visits by the President of India in 1993 and 1998.
India and Turkey share common interest in ensuring peace and political stability in Afghanistan and Central Asia.
"India and Turkey share a lot of common interests in ensuring that there is peace, there is stability and political continuity and the environment for progress and development.
"...it is a scope for India and Turkey to work together particularly in the private sector where Turkish companies are big in infrastructure globally. We are welcoming their participation in India," Press Secretary to the President Venu Rajamony had earlier told reporters in New Delhi.
Minister for Shipping G K Vasan and a group of MPs including Priya Dutt, Deepender Singh Hooda, Zafar Ali Naqvi, Baishnab Charan Parida and Prabhakar Kore would also be travelling with the President.