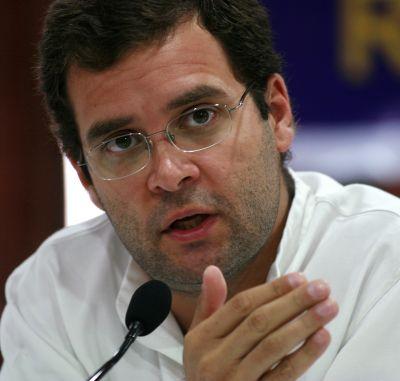 After his public outburst against ordinance, Congress Vice President Rahul Gandhi on Wednesday met Prime Minister Manmohan Singh and is understood to have explained his reasons for opposing the move that will protect convicted lawmakers from immediate disqualification.
Sources said Rahul met Singh at his residence in New Delhi and the meeting between the two lasted 30 minutes.
Rahul is understood to have told Singh about the reasons for his reservations over the ordinance.
Sources told TV channels that the Congress vice president told Prime Minister Manmohan Singh that he didn't want to embarrass anybody by his stand on the controversial ordinance.
The PM also said that his suggestions will be taken under consideration during the Cabinet meeting. TV channels also reported that there was no clear-cut apology from Rahul Gandhi to Prime Minister Manmohan Singh during their meeting. The Congress vice president barely explained his stand on the controversial ordinance.
The meeting came a day after Singh returned from his visit to the United States and said he would try to find out the reason why Rahul made a public statement and "why it had to be done that way".
Rahul had earlier this week said at a press conference that the ordinance is "complete nonsense" and should be "torn up and thrown away".
Making it clear that he was not undermining Singh's authority in any way, the Congress vice president had the same day written a letter to the prime minister, saying that he has the "greatest admiration" for his leadership in extremely difficult circumstances.
Many saw Rahul's outburst on the ordinance as an embarrassment for the Prime Minister and the Opposition vociferously demanded that Singh, who was on a visit to the US at the time, should step down after his return. On his way back, Singh had ruled out his resignation.
The sources said the government is mulling whether to withdraw the ordinance -- which was sent to President Pranab Mukherjee after the Cabinet had cleared it -- or ask the President to exercise his pocket veto and sit over it.
The Prime Minister has convened a meeting of the Cabinet on Wednesday evening after he calls on the President to discuss the issue.
The President is said to have reservations over the move to provide immunity to MPs and MLAs from immediate disqualification overriding a Supreme Court judgement on the issue.
A meeting of the Congress core group that includes party chief Sonia Gandhi, the Prime Minister and top ministers was held to discuss the issue.
Sources told TV channels that there was overwhelming support for reconsidering the controversial ordinance in the Congress core group meeting.
Sources said that the Congress core group will urge the Union Cabinet to reconsider the ordinance, and will also ask it to ensure that all UPA allies are taken on board before taking the final call.