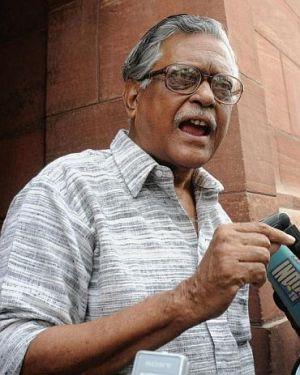 Left parties on Wednesday said the government has no other option but to withdraw the ordinance on convicted lawmakers in face of huge public outcry against it, with Communist Party of India leader Gurudas Dasgupta saying that Manmohan Singh has "proved to be a shadow prime minister".
"Finally, sense has prevailed (in the government). We have been opposing the ordinance from the very first day. Several other parties have also been opposing the move," senior CPI-M leader Sitaram Yechury told PTI.
The bill to protect convicted lawmakers is already before Parliament's Standing Committee and it will naturally come up before both the Houses, he said, adding the ordinance route on such a crucial issue was not correct.
CPI leader Gurudas Dasgupta said the government first ignored substantial public opinion and pushed the ordinance and now it's making a U-turn, as Rahul Gandhi has strongly spoken against it. This has put the government to shame, he said.
"Manmohan Singh has once again proved to be a shadow Prime Minister," Dasgupta said.
CPI National Secretary D Raja said that there have been widespread protests by various major parties which have demanded dropping of the ordinance.
"Congress was isolated and embarrassed by this, which forced Rahul Gandhi to make the statement (opposing the ordinance). Finally good sense has prevailed," he said.
In parliamentary democracy, the government can be compelled to change a decision, Raja said, adding that the government has to have an open mind to accept the people's verdict.
Dasgupta said that the ordinance was brought after due diligence by the Union Cabinet and the Congress Core Group "must have given consent."
He said a decision on withdrawing the ordinance will not be wrong but "outrageously belated".
Image: Senior CPI leader Gurudas Dasgupta