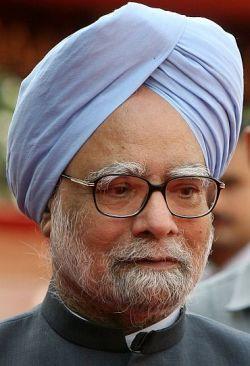 Ahead of the Cabinet meeting, Prime Minister Manmohan Singh on Wednesday talked to allies, informing them about the intent to withdraw the controversial Ordinance on convicted lawmakers.
Among the allies Singh contacted were Nationalist Congress Party chief Sharad Pawar and Rashtriya Lok Dal leader Ajit Singh, sources said.
The Prime Minister also consulted Attorney General G E Vahanvati over the issue.
When contacted, Ajit Singh said he is in favour of withdrawal of the ordinance as also the bill which seeks to protect convicted lawmakers from immediate disqualification.
"We welcome the withdrawal of the ordinance. We opposed it in all-party meeting also," he told PTI.
He attacked BJP, saying the party supported it in the all-party meeting as also the bill in Lok Sabha but changed its stand in Rajya Sabha.
"If BJP can change its mind, why can't Congress? It should be withdrawn," the RLD chief said.
He said the bill, which seeks to amend the Constitution, should also be withdrawn. "The bill says that convicted lawmakers can get salary and allowances but cannot vote in the House. Is that a deterrence?"
He said the best way to deal with the issue of barring criminals from politics is to set up fast-track courts which must decide cases against politicians within a timeframe of about six months. "That will prevent criminals from contesting," he said.
NCP is also unhappy over the flip-flop over the ordinance and its leader Sharad Pawar is expected to convey these sentiments at the Cabinet meeting.
Party spokesman D P Tripathi made the unhappiness clear when he said the government is of UPA and not that of Congress. "Rahul Gandhi definitely knows that we are his allies not followers," he said.
"Rahul Gandhi is free to say anything or express anything as far as policies and programmes of Congress are concerned. But the government led by Dr Manmohan Singh is not the Congress government, it is the UPA government," Tripathi said.
The NCP spokesperson also said the party would express its opinion on the matter in the cabinet but added that it would go with what the Prime Minister and the Cabinet decides.
He said that when the cabinet approved the ordinance all the constituents of the UPA were for it.
"When we all approved the ordinance in the cabinet, we were all for the ordinance. So whether, it is Congress or any constituent of the UPA, all of us were for the ordinance. Now whatever view the government takes, we will be one with that view," he said.