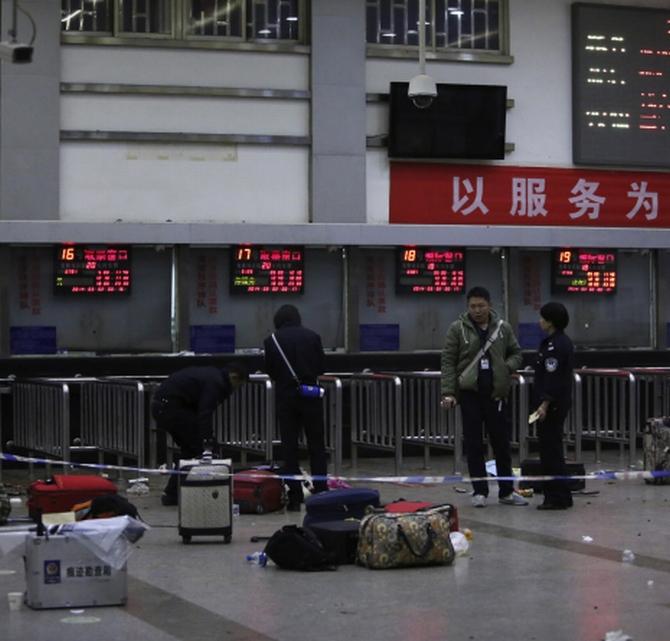 The battle against militants fighting for separation of China's volatile Xinjiang province, bordering PoK and Afghanistan, is getting "tougher, fiercer and crueler than ever" due to the revival of pan-Islamic extremist groups, top Chinese leaders from the province said.
"We should realise that the revival of religious extremism internationally has contributed to the complicated anti-terrorism situation in China," Zhang Chunxian, Communist Party chief of the Xinjiang Uyghur autonomous region, said in the aftermath of Sunday's brutal knife attacks in Kunming where 29 people were hacked to death and 143 others injured.
Four militants were killed and four others including two women were later captured by police. Zhang said the internet has become a new battlefield, as most of the terrorists involved in recent incidents have been influenced by information online.
As a result the anti-separatist battle is getting tougher than ever, Zhang was quoted by the state-run China Daily as saying at a meeting of the Xinjiang delegation at the National People's Congress China's legislature which begins its week-long annual session here from Wednesday.
Saimati Muhammat, a major general and deputy commander of the Xinjiang Military Area Command, said counterterrorism measures are in place to prevent incidents in Xinjiang.
"The fight is not about ethnic issues, religion or cultural differences. They (terrorists) are enemies of people from all ethnic groups. The battle is complicated, harsh, fierce and cruel," he said.
The revival of international terror groups has "caused many terrorist attacks around the world", Zhang said without directly referring to rise of the Taliban and al-Qaeda, which reportedly backed the East Turkestan Islamic Movement, an organisation fighting for separation of the vast and resource-rich northwestern province from China.
He said Xinjiang, which borders Central Asia besides Afghanistan, Pakistan-occupied Kashmir and India, is the main battleground and on the frontline in the fight against terror.
A worried China is already trying to forge a new strategy to deal with revival of the Taliban and al-Qaeda in Afghanistan after American forces leave the country later this year.
China has also held discussions with India, Pakistan and Russia in this regard as a return of extremist forces in Afghanistan would have a destabilising affect on Xinjiang.
Beijing has already deployed large forces, including elite commando units, to quell the unrest among Xinjiang's 10 million native Uyghur Muslims who resent the growing settlement of Han Chinese from the mainland.
The province has witnessed several riots in recent years posing a major challenge to Beijing which focused on Xinjiang's development while sternly dealing with Uyghur nationalist sentiments.
Muhammat, who is a rare Uyghur military official in Chinese forces, said Xinjiang has been upgrading supplies for border troops and has deployed special forces.
China has already stepped up vigilance at Xinjiang's borders with various nations to prevent infiltration, he said. Nayim Yasen, a deputy from the Xinjiang delegation said, "China urgently needs a comprehensive national law to combat terrorist attacks as threats from terrorists, especially those based in Central Asia, have become extremely serious".
Defending China's defence spending, Fu said, "We Chinese might ask, can a prosperous country such as China really achieve peace without a strong national defence?" "It's not good news to the world that a country as large as China is unable to protect itself."
Fu said China's defence policy is entirely defensive in nature, has never treated any country as an enemy or a threat. Cooperation is the main theme of China's relations with its neighbouring countries, she said, adding that China has always advocated peaceful solutions to territorial and maritime disputes with other countries.
"For disputes which cannot be settled in the short term, we could always set them aside, or negotiate joint development plans," said Fu, who added that a country's military power should be viewed in terms of its future policy trends.
However, China will "respond effectively" to provocations by those ready to sabotage regional security and order "for the sake of China' s own territorial sovereignty, as well as for the protection of regional order and peace," she said.
Commenting on the US pivot to Asia, Fu said although the US had repeatedly stress that it does not have a specific strategy to contain China and that it had not target China, "we still have to see whether its words match its deeds".
"It is my understanding that both China and the US are willing to expand cooperation, and we sincerely hope that interactions between China and the US in Asia are cooperation-oriented on a general term," she said.
Image: Police stand near luggage left at the ticket office after a group of armed men attacked people at Kunming railway station, Yunnan province. Photograph: Reuters