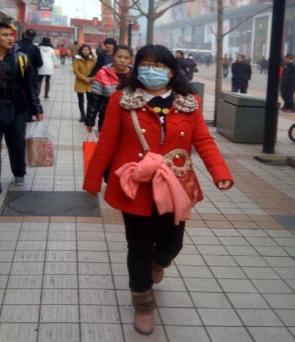 Everybody seems to be expressing regret about the smog to everybody else in Beijing, observes Sheela Bhatt
Since the last four days, the people of Beijing have not seen the sun.
The people of China's capital are, understandably, craving for a glimpse of the blue sky.
Their collective wish is for a sand storm that will clear up the depressing smog that has enveloped the city for days.
Everybody here knows what the number 483 represents. It's the Air Quality Index in Beijing, which is used by the government to measure the level of pollution in the city.
While Air Quality Index usually hovers around 40-50, it is at a suffocating level of 483 in Beijing.
The government appears to be apologetic for the situation.
For those visiting Bejing, the city's awesome skyscrapers look like photographs printed in a sepia tone.
China's ultra hyper social media is going berserk over the issue, with sharp comments and jokes being made against the government.
'Kou Zhao', the mask used by people to protect them against the smog, is fast acquiring rock star status.
It comes in vibrant colours, various sizes, funky designs and can cost up to 30 yuans (roughly Rs 300).
Bejing's notoriously congested traffic has slowed down further due to reduced visibility.
Some Indian cities have also experienced intense smog in the past, but the current environmental crisis in Bejing has been going on for a while.
During the Beijing Olympics in 2008, many factories were shifted out of the city as they were adding to the pollution, but such measures are not nearly enough because the reckless felling of trees and a monstrous increase in the number of vehicles has compounded carbon emission.
Many people have been affected so badly by the smog that they have had to be hospitalised, according to The China Daily.
When an Indian media delegation meets Chinese government officials, the first thing the latter do is politely state, "We apologise for the smog".
Everybody seems to be expressing regret about the smog to everybody else.
China President Xi Jinping is also part of the smog story.
China's micro-blogginng site weibo.com has reported the President's movement in the city under a haze of smog.
The smog reigns supreme in Beijing, the seat of power in this Communist nation, and makes the China development story look complex.
Even if one avoids giving in to propaganda about development versus environment, in Beijing, pollution is a man-made human tragedy.
Millions of people walk, work, breathe and sleep under the sheet of smog.
Sometimes, only sometimes, India's 'slow' road to development looks different.
Viewing Beijing through a curtain of smog is one of them.
Image: A woman walks on the smog-covered streets of Beijing while wearing a 'Kou Zhao' ' Photograph: Ritu Sarin