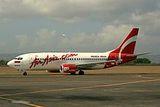 AirAsia, the low-cost carrier, which plans to take off in September this year with two aircraft, began the hiring process for cabin crew for its flights at Chennai at the weekend. AirAsia India is a joint venture between Kuala Lumpur-headquartered AirAsia and the Tata group.

Bo Lingam, chief operating officer, AirAsia, said: "The way things are going, it looks like we will be able to launch our operations in September provided we get all the regulatory approvals."

Lingam was leading a 14-member team, which was in Chennai to interview candidates, the biggest hiring in the history of the company. He added there was s scope for more airlines to enter the aviation sector considering the high population.

Airline's promoter Tony
Fernandes is expected to visit in June, said Lingam.
It may be noted that AirAsia is the first overseas airline to form a JV after the civil aviation sector was thrown open to FDI by the government.
Meanwhile, the airline has said it would hire 100 cabin crew.
The airline, which started walk-in interviews saw about 5,000 people walking-in. Suhaila Hassan, group head flight attendant, AirAsia, said she was impressed with the response, especially with flight attendants with the requisite qualities.
Each aircraft will have four attendants and 20 people are required per aircraft, she said. The selected candidates will go through a 42-day inhouse training in Malaysia, added Rajkumar Paranthaman, marketing manager - India, AirAsia.
The attrition level in AirAsia was one of the best in the industry, around 1.5 per cent, he said.