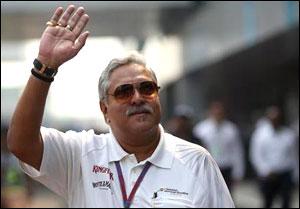 Lenders to Kingfisher Airlines (KFA) have started selling United Spirits shares pledged with them as security for the airline's loans.
Sensing this might cast a shadow over its deal with Diageo, UB Holdings and its promoter, Vijay Mallya, have moved the Bombay high court against State Bank of India and 18 other lenders, seeking interim relief. It has sought that the banks be restrained from selling USL shares. The matter is expected to come up for hearing tomorrow.
None of the banks was willing to comment, as the matter was sub judice. When contacted, a UB Group spokesperson refused to comment on the issue.
Sources familiar with the development said lenders sold shares in small lots last week and today. Confirming the sale, senior executives of public-sector banks said there was no court directive yet to stop selling shares. Compared to their previous close, the USL shares today ended almost flat, at Rs 1,889.45, on BSE. Kingfisher shares closed about five per cent higher, at Rs 8.37.
This sale of USL shares is part of lenders' action to recover their dues from the airline company. The bankers had in February decided to recall all Kingfisher Airlines loans, amounting to Rs 7,500 crore (Rs 75 billion).
A loan recall means a borrower has to repay loans immediately. The recovery, through sale of pledged assets and invoking promoter Mallya's personal guarantees, is set to be a long-drawn process.