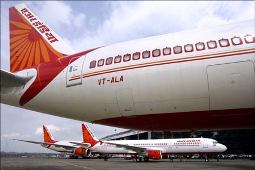 Ailing Air India's plan to raise revenue by monetising its properties in the country has been delayed for lack of a clear title to quite a few of these.

Ownership documents aren't available for about a fith of the properties in question.

As a result, its monetisation target for 2012-13 has been carried over and merged with those for 2013-14; the current expectation is to raise Rs 1,000 crore (Rs 10 billion) through sale or lease of at least five prime properties.

The latest instance of a setback is the withdrawal of interest by Life Insurance Corporation to buy AI's land lot at central Delhi's Baba Kharak Singh Marg.

Said a senior LIC official to Business Standard: "Presently, we are not interested in buying the land, as there are some title issues. We are not engaged (now) in any discussions with Air India on the land."

AI was earlier expecting to get the land registered in its name this financial year (ending this month).

However, this is still awaited, confirmed a senior civil aviation ministry official.

Said a senior AI executive, "We bought the property for Rs 15 crore (Rs 150 million) in 1983.
However, it took us time to take possession, as there were many encroachments on it.

An Indian Oil Corporation Limited petrol pump was the last encroachment and cleared just before the Commonwealth Games in 2010."

Apart from this, there are the Sterling Apartments in Mumbai, the Air India colony in Kolkata, land on the Sowripalayam Road in Coimbatore and some land in Chennai.

Earlier, four-odd floors of AI's office in South Mumbai's Nariman Point had been leased to State Bank of India.

DTZ, an international property consultant and hired for this purpose, is working on how best to proceed, by sale or renting these out.

As the properties in question are government-owned, the final decision on monetisation will go through the airline's board, the aviation ministry and the Union cabinet, the AI executive said.

Asset sales are an important part of the plan to turning around the airline, which has debt of Rs 43,000 crore (Rs 430 billion) and has made losses continuously for four years.

Raising Rs 5,000 crore (Rs 50 billion) over the next 10 years by asset sales is part of its financial restructuring plan.

A plan to auction 1,000-odd pieces of art work to gather funds is also not moving ahead.

Their cataloguing has not taken place, though a panel of experts was appointed for the job in November.

"The airline management has asked this committee to evaluate each art work over three months, so that their monetary value and importance can be determined.

"We have yet to figure out the total number of paintings, as they are spread in different offices," said a senior AI official.