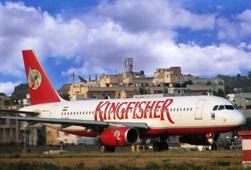 Kingfisher Airlines' promoter Vijay Mallya has assured his employees that they would be paid their salary dues of eight months soon but did not give a time-line, airline staffers said on Friday.

The assurance came a day after a section of employees threatened to disrupt the matches of Royal Challenger Bangalore, owned by Mallya, in the upcoming Indian Premier League.

Mallya met four representatives of airline pilots and engineers here late last night and told them that their wage dues from June last year till this January, would be paid as soon as the company gets money from the Rs 11,000 crore (Rs 110-billion) Diageo deal, the employees said.

However, he did not give a time-line by when these dues would be cleared, they said.

Last November, United Spirits, a subsidiary of Mallya's UB Group, had sold 53.4 per cent stake to US-based Diageo for over Rs 11,166.5 crore (Rs 111.66 billion) in a multi-structured deal.

The Kingfisher chairman also informed the employees about the grounded airline's plans to restart operations.

He also said he would personally meet DGCA chief Arun Mishra soon to submit the revival plan for the airline, the staffers said.

Civil Aviation Minister Ajit Singh had yesterday said that Kingfisher had not yet given a financially-viable revival plan to resume
operations.
Kingfisher's Air Operations Permit or the flying licence lapsed on December 31 last year but it has two years to renew it from the Directorate General of Civil Aviation after fulfilling several conditions set by the aviation regulator to relaunch flight operations.
These include clearing of salaries and dues to all vendors and fulfilling all mandatory safety parameters.
The airline's operations had ceased in October last year following an unrest by the employees over non-payment of salaries since June till date.
Some Kingfisher employees in Delhi had on Wednesday decided to disrupt IPL matches to be played by Mallya's team.
Following the unrest in New Delhi, pilots in Bengaluru on Thursday held a meeting and wrote a letter to the airline chief executive officer Sanjay Aggarwal and Vice President Hitesh Patel seeking an audience with them.
In the letter, they reiterated the demand for payment of the wage backlog and sought steps by the airline management about refresher training for pilots through the DGCA.
This is a mandatory requirement for ensuring continuity of their flying licences.
Last October, some employees had threatened to protest outside the Formula 1 venue at Greater Noida but they decided to withdraw their agitation after management paid them salary of one month and assured to pay the dues in instalments thereafter.
These instalments are yet to be paid.