Home > Cricket > Report


Solanki England's new cricket icon

Shyam Bhatia in London | June 30, 2003 09:09 IST



England have discovered a new cricket star after Vikram Solanki's stunning century helped England to a sensational victory over South Africa in the NatWest series.

Worcestershire batsman Solanki's 106 was achieved in partnership with Marcus Trescothick who presided over a six-wicket win for England last Saturday.

Between them the pair put on a new England record opening stand of 200.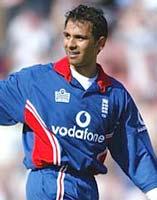 Trescothick, who was 114 not out, was lavish in his praise for Solanki, saying Vik's innings was fantastic to watch from the other end.
It was a typical free flowing knock.
Solanki, who commentators say is now regarded as a certainty for the full England side, returned the compliment. "Tresser is always making it look easy and I was lucky enough to get involved today."
"I'd have liked to see it through with him. But to win and to get a total like that was pretty good," he said.
Everyone loves a winner and Solanki's batting has been variously described in the British media as 'exquisite' and 'gorgeous'.
UK cricket writers have also picked up on Solanki's religious faith after he received his Man of the Match award at the Oval and revealed how he looked skywards when he reached 50 as a gesture to the divine.
"I'm a fairly religious person and it was just to thank the big person upstairs. This is a significant score for me, but I didn't go out thinking I've got to do it today," he said.
Commenting on the improvement in his game since his England one-day debut against South Africa in January 2000, he said,  "I have learned to bat better in the middle period.
"Since 2000 I have been going quietly about my cricket in Worcestershire and in some ways this was just another game. I am thankful for being given another opportunity," he said.
Eng vs SA, 2nd ODI: Images | Scorecard


What do you think about the story?








Read what others have to say:





Number of User Comments: 1








Sub: cool

i saw the match on t.v (espnstarsports)and i thought solanki's knock was fantastic.but it would have been cool if he had done it for india


Posted by piyu






Disclaimer