Price Waterhouse (PW) has won a battle against the capital markets regulator, though the war is far from over.

In yet another instance of the appellate body over-ruling the order of the regulator, the auditing firm of the erstwhile Satyam Computers has been allowed to cross-examine the former top brass of the software firm.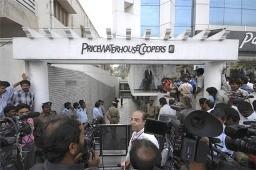 The regulator has also been directed to complete the inquiry within four months.

The Securities Appellate Tribunal on Wednesday directed the Securities and Exchange Board of India (Sebi) to allow PW cross-examination of former key executives of Satyam - former chairman Ramalinga Raju, former managing director Rama Raju, former chief financial officer (CFO) Vadlamani Srinivas and former vice-president (finance) G Ramakrishna.

The auditing firm has also been allowed to cross-examine PW officials named in the Satyam scam.

They include partner Srinivas Talluri and C H Ravindranath, P Siva Prasad and N Ramu - all part of the PW engagement team. The regulator has also been directed to furnish copies of their statements to PW.

The three bench division comprising Justice N K Sodhi and members P K Malhotra and S S N Murthy further directed Sebi to "complete the inquiry expeditiously, preferably within four months from the date of the order."

The SAT directions came after PW filed an appeal against a Sebi order that barred either complete or partial access to some of the key accused in the multi-crore Satyam scam.

The regulator's reasoning was that it did not rely on their statement while issuing the show-cause notice to PW.

Sebi, in its show-cause notice to PW, has alleged that at a time when the latter was the auditor for Satyam, the company did not present "fairly and accurately" the financial position and that it was "manipulated and false".

It has been further alleged PW is "liable to be treated as having participated" in the fraud or as "having aided and abetted the same."

The court has ruled that Sebi has the power to take regulatory measures in the matter of safeguarding the interest of investors and securities market and to achieve the same, it can take appropriate remedial steps which may include keeping a person including a chartered accountant at a safe distance from the securities market.