The government will offload 9.5 per cent stake in power major NTPC on Thursday, which may fetch the exchequer around Rs 12,000 crore (Rs 120 billion).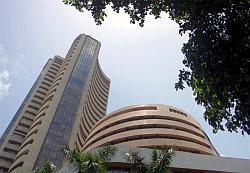 "The EGoM has approved 9.5 per cent stake sale in NTPC. The stake sale will be made on February 7," Disinvestment Secretary Ravi Mathur told reporters.

The Empowered Group of Ministers (EGoM) on disinvestment is chaired by Finance Minister P Chidambaram.

When asked how much would be raised through the sale, Mathur said, "it would be as planned around Rs 12,000 crore."

He said the floor price, or the minimum offer price, would be notified to the stock exchanges tomorrow.

The government plans to sell over 78.32 crore shares or 9.5 per cent stake in NTPC through offer for sale (OFS). It currently holds 84.50
per cent stake in NTPC.
Shares of NTPC closed at Rs 155.60, up 0.16 per cent on BSE. At the current market price, the stake sale could fetch over Rs 12,100 crore (Rs 121 billion) to the exchequer.
The government had last month appointed merchant bankers, including Citigroup, SBI Capital Market and Morgan Stanley, for managing the NTPC stake sale.
The department has recently completed 10 per cent stake sale of the Oil India (OIL) through the auction route raising over Rs 3,141 crore (Rs 31.41 billion) for the government. The government has raised over Rs 10,000 crore (Rs 100 billion) though PSU stake sale so far this fiscal.
Besides OIL, the government has raised Rs 6,000 crore (Rs 60 billion) from stake sale in NMDC, Rs 800 crore (Rs 8 billion) from Hindustan Copper and Rs 125 crore (Rs 1.25 billion) from NBCC.