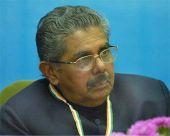 Ahead of seven Congress MPs from the Telangana region threatening to quit their posts, Union overseas affairs minister and senior Congress leader Vayalar Ravi has summoned them to New Delhi for a fresh round talks on the issue.
Following a meeting of the Congress leaders from Telangana on Monday, it was announced that the MPs would tender their resignations to Congress president Sonia Gandhi and a separate covering letter urging her to announce the formation of Telangana would be made.
However, Ravi has summoned these MPs to New Delhi, where he is likely to coax them to reconsider their decision and hold out till the budget session is over.
The Congress had assured these leaders that a decision would be taken after the budget session and they would not want any hiccups until then.
These MPs are now under pressure from the people of their constituencies who have been urging them to tender their resignations. Madhu Yashki Goud, Congress MP from the Telangana region, had also said that the people are not allowing them to return to their constituencies and hence it is very important that the Union government acts quickly on the issue.