'I am actually quicker now than before,' Boxing legend Mary Kom tells Pavan Lall.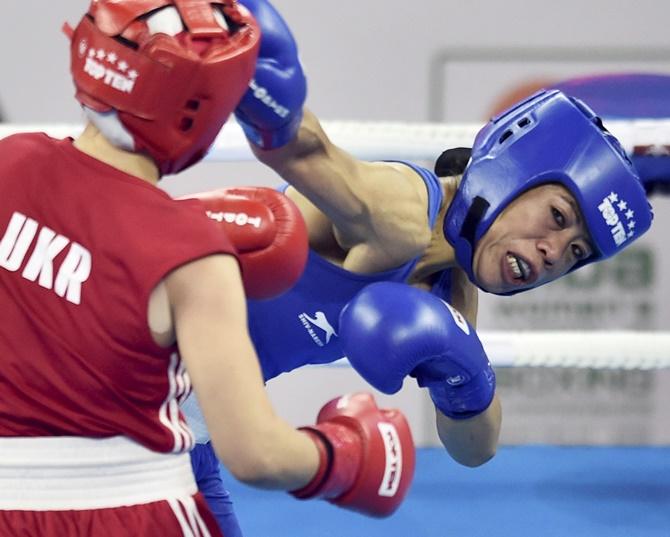 It is apt that a lithe, panther-like young woman dressed in a satin slip, black jacket and tan pants is on stage at Kanakia Wall Street, a newly launched corporate office building in Mumbai.
She is here for a promotional photoshoot for 'Fearless Girl', a metal rendition of the famous sculpture of a bull charging straight at a little schoolgirl that now stands outside the New York Stock Exchange (it was originally installed in Manhattan's financial district).
Here in Mumbai, the 'fearless girl' standing her ground is M C Mary Kom, world-class athlete and India's best-known boxer.
Kom, a tightly wound bundle of energy, is both bright-eyed and friendly, and answers questions in a mix of Hindi and English with big smiles.
She has got cause to be happy. Just a couple of months ago, Prime Minister Narendra Damodardas Modi had tweeted, 'A proud moment for Indian sports. Congratulations to Mary Kom for winning a gold in the Women's World Boxing Championships'.
Ten minutes later Kom is done with the shoot and walks across to me at a table behind her stage amidst a phalanx of muscular, black-shirted bodyguards. There has been a change in plan, I am told.
She has a meeting with the chief minister. "I have to get to Marine Drive in an hour, so can we chat in the car?" she says to me.
Ride with Mary Kom? Who would have thought? An entourage of bodyguards, security officials and managers sweeps us up in a procession-like wave towards the exit.
Minutes later, we are at the lobby of Kanakia Wall Street. A dark SUV pulls up and Kom and I are almost pushed into it. Fame clearly demands a price.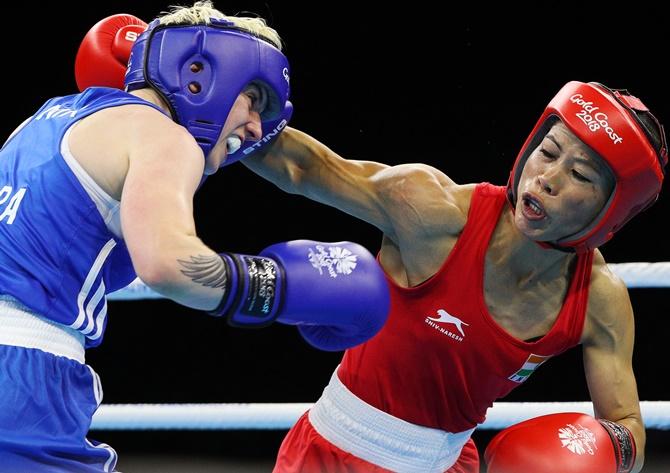 "I don't want to hurt people, but how do you keep everyone happy? Sometimes, I don't want to leave, but there is always another commitment, another flight, another meeting," she says.
The boxer leans back into her seat as we head towards Juhu and takes a breather.
Are the promos and publicity events frequent engagements?
Kom says she gets tons of invites and opportunities, but tries to bundle back-to-back events and engagements while restricting them to one state.
"Travelling across India becomes hard, so I accept invites sparingly, and restrict them to once or twice a month and mostly over the weekend because I just can't miss training during the week," she says.
With six world championships, and other milestones that include an Olympic bronze, the fighter from Manipur now has her eyes set on the Olympic gold in Tokyo.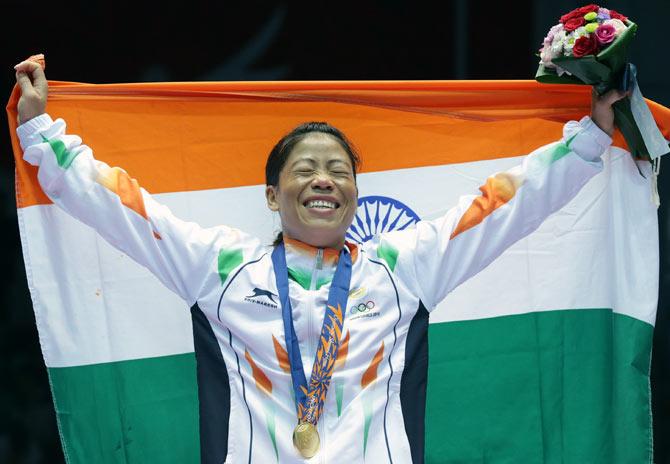 Kom, who is 5 feet 2 inches and weighs 48 kg, will have to fight in a class that starts at 52 kg, which means she will be going up against opponents who aren't just bigger but also taller and have a height and reach advantage.
Even so, professional boxing history has shown that height has not always been an advantage with heavyweights like Mike Tyson regularly knocking out opponents sometimes five or six inches taller than him.
Tyson was, of course, lightning fast -- like Kom -- and had a deceptively devastating combination of an equally powerful left and right.
Kom agrees and I'm reminded with a slowly spreading smile that after fighting for 18 years, there is one universal truth: 'The heart of a fighter, the spirit of a champion, can't be taught by anyone. That will has to be inside you.'
At 35, Kom isn't over the hill in boxing terms, but at a now or never moment.
If there is pressure of age, she doesn't show it.
"I am actually quicker now than before," she says without the faintest hint of arrogance, as she adds that her training regime includes everything you can name: Skipping, running, weights, sparring, free-hand exercises.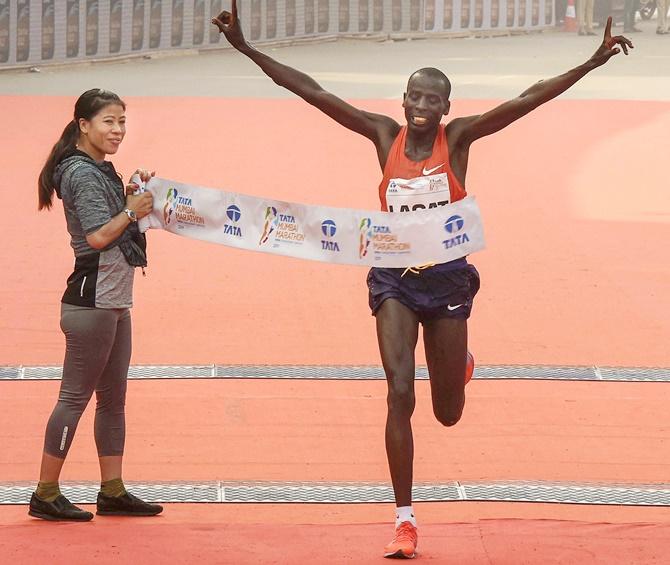 Presently the training routine includes two 90-minute sessions a day for most of the week with one fitness workout in the morning and "the more important training in the early evening (which is all boxing, punching bags, footwork, and so on)."
For years Kom would only eat two meals a day -- lunch and dinner. Breakfast is something she started just recently.
A motorcycle whizzes past us causing me to grab the handle, but Kom is unfazed as she shifts a millimetre or two and adjusts to the lurching of the car without batting an eyelid.
What is the secret weapon in Kom's arsenal?
"My right hook is very strong," says the diehard Muhammad Ali fan. As if on cue, her right arm comes up, gearing to throw a punch. I recoil in my seat and get out of the way because I am sitting, well, to her right. She explains why no one sees it coming.
"I am actually southpaw, you know. Also, my right jab is fast," she says, as her fist continues its trajectory extending back and forth like a weaponised steel piston.
Her jab has already sliced through air half a dozen times in a second. It may be my imagination, but the air seems to have shifted.
Fighters are typically unpredictable and Kom makes me start as she exclaims without warning "POW! No one can take it. Seriously."
I tell her I believe her before bringing her back to topics that get her to lower her fist.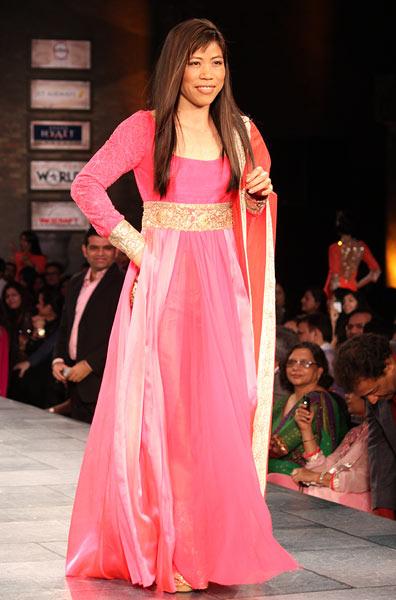 Post-fame, how has life changed for you? "Actually I don't think I have changed at all. More expensive clothes, maybe more branded, designer stuff, that's about it."
Kom still trains at home, getting up earlier than usual, since she lives with the family. They have no domestic help and most housework is shared by family members.
What does Kom attribute her fitness to -- diet or genes? "I think Manipuris have a good diet. We have our own kitchen garden, so it's, as you say, all organic and no chemicals in the food. And then, of course, a lot of it is genetic."
Looking out of the window at the Bandra-Worli Sea Link, Kom says she was like the boy in the family. "My father treated me no differently, and I did all the work on the farm. I was kind of like the eldest son of the family."
Which is why Kom is, by her own admission, fearless. Nothing scares her.
"Nothing at all," she says -- except this one time when Diwali was being celebrated at her brother's home in Delhi and something that is called a chocolate or aloo bomb went off behind her and caused her to jump.
"My heart was pounding like a drum. I was scared and thought I might die," she laughs.
Are there things that she would like to change about India?
Kom, a devout Christian who believes in the power of prayer, says that love for only one's own community and the use of religion as a tool saddens her.
"It tears the country apart when people stand up and say in front of everyone that there should be only one religion. Talk development and leave religion out of political agendas," she advises.
That, and the air quality in New Delhi. "I use air filters in every single room in my home," she says.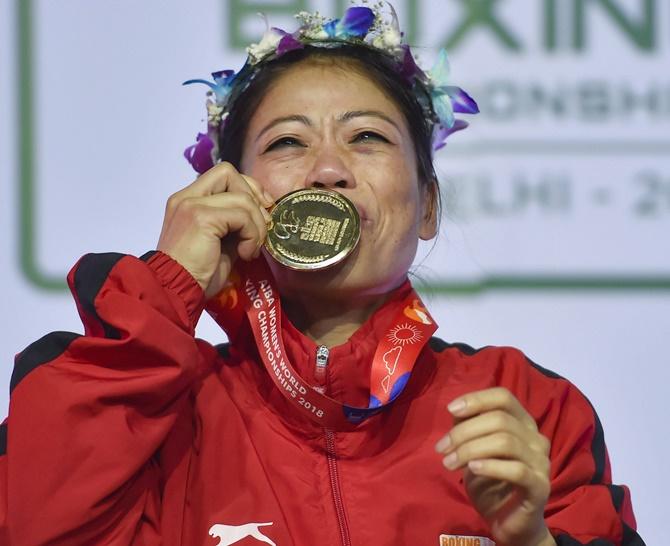 Kom has every right to push for development. She has fought her way out of poverty, dealt with the sickness of her infant child (who was born with congenital heart disease ) and continued to box at international standards even after she got married and had three children.
"I really work hard, otherwise I wouldn't be able to achieve anything."
We have crossed the Sea Link and reached Worli where I am set to alight. I throw one last question at her: What outside the ring makes Kom angry?
"Not much, except sometimes my husband who is very calm, thankfully, because he is also a fighter" comes the response with a smile.
She doesn't say it, but the best warriors bounce back because of their sense of humour.