'I have defied critics who suggested that I should retire,' Magnificent Mary tells Rediff.com's Laxmi Negi.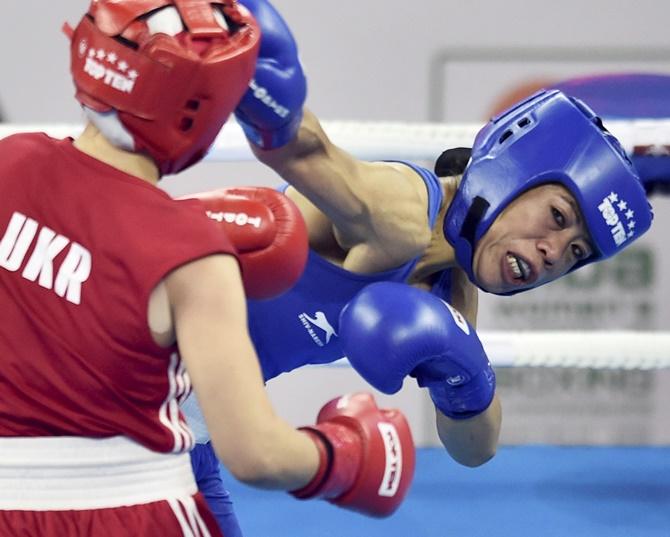 MC Mary Kom won her sixth AIBA Women's World Boxing Championships title, the first woman in history to do so.
The 35 year old broke into tears after defeating Ukraine's Hanna Okhota in the 48kg title fight.
Leading with powerful double rights combined with a swift counter left hook, Mary dismantled her opponent's guard and dominated the bout with her swift counter punching and silken smooth footwork.
Each time the critics doubt her, Mary comes back with an even powerful jab to knock them out.
The Champion in conversation with Rediff.com.
You acknowledged there was a lot of pressure on you to win the record sixth title, but you looked so calm in the ring.
With my experience I can manoeuvre bouts. I used to be very aggressive and at that time it helped my game.
Aggression can be useful sometimes whereas it is not a necessary emotion most of the time.
Also, anger spoils our game plan.
Therefore instead of focusing on aggression, I try to study the opponent and strategise my next move.
Why simply fight in the ring as if the opponent is your enemy? That type of boxing is also not very pleasing to watch.
Also, if I don't show any aggression, it creates a good impression on the judges and referees.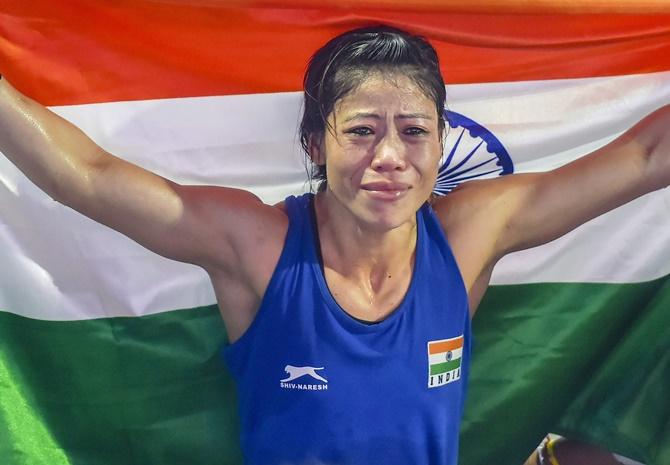 So, Mary Kom doesn't get angry anymore?
(Roaring laughter). Of course, I am not a saint.
I get angry when people spread rumours. I understand that no one is perfect, but somehow people who talk behind my back get on my nerves.
I would like to add here that I am a very straightforward person and if I have wronged anyone, I will be the first to apologise.
Why were you crying uncontrollably after the final?
It was because of pressure.
When I won in 2006, women's boxing was not that well known. But this time, I saw people in the stands chanting just my name and it overwhelmed me. I couldn't control my tears.
What is the secret of your fitness?
I can proudly say that I am very disciplined. My training is my fitness mantra.
It is such an integral part of my life that I feel incomplete without it.
If I continue my training, I feel very comfortable and relaxed.
Also, I am mentally very strong. If I decide on something, I get it done.
What next now?
I have a medal in the Olympics (Mary won a bronze at the London Games in 2012), but I am still dreaming about winning gold at the 2020 Tokyo Olympics.
I am very happy about my sixth championship win as it boosted my confidence.
Now, my target is to win an Olympic gold medal and I will train hard to get a gold for my country.
People call you Magnificent Mary or the female Sachin Tendulkar. Do you like these sobriquets?
I like everything that my supporters call me. I am fortunate to be loved and supported.
So, lovingly, whatever names I am given, I am happy.
Critics often say Mary Kom should rest now. Time and again, you have proved why you are still the best and shut the critics down.
I have defied critics who suggested that I should retire.
The age factor should be taken out of the mind.
For the Olympics you will have to move to the 51kg category. Do you think this weight shifting takes a toll on your body?
It's not easy for me to juggle like this. I am human and obviously it plays on my mind.
Obviously, it is something that has consequences, I too suffer, but I will try my best.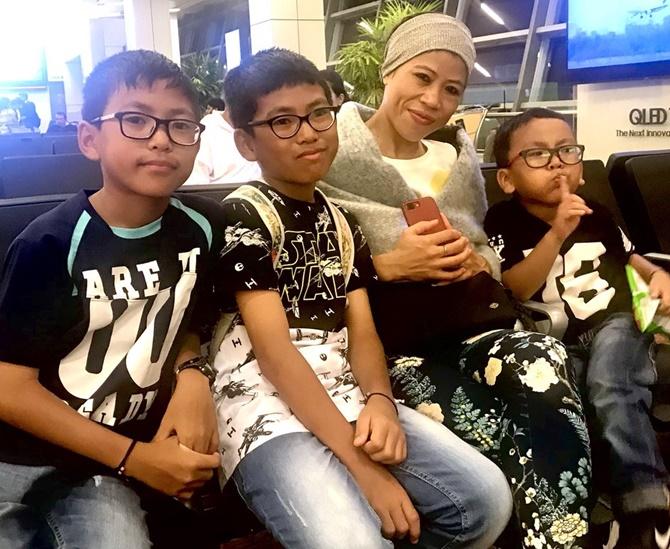 You have ruled the ring for 18 years... Any other sport you play for recreation?
I play badminton and table tennis. But I enjoy the football sessions with my boys.
My boys are not like me. None of them are like me. They don't want to fight.
No one wants to be a boxer. Just like their dad, football is in their blood and I am happy to play along with them.
How did you celebrate your win?
I am still planning it. I haven't found time for any celebration yet.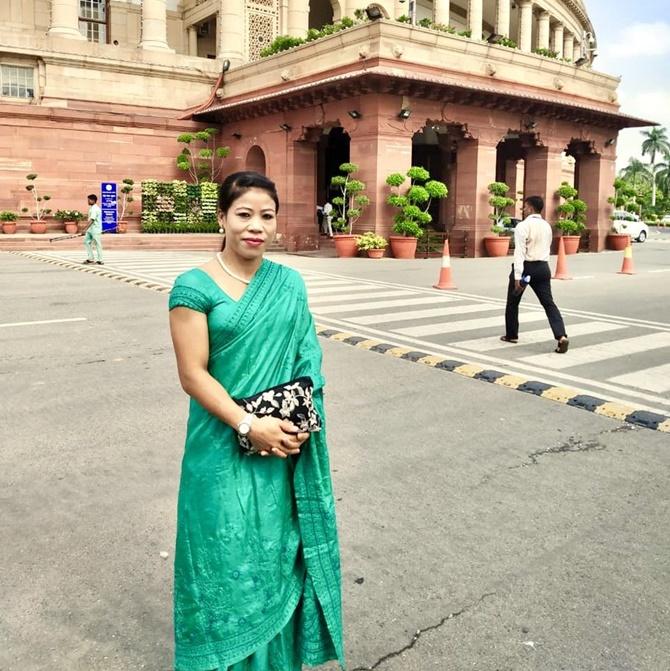 Tell me about your sarees. From the time you shifted to New Delhi, you have been wearing sarees. What's the reason?
After joining Parliament I consciously started wearing a lot of sarees.
It was a struggle earlier. It took me a long time and patience to learn the art of draping a saree.
Now I can easily say that both boxing and draping a saree comes naturally to me.